A nearly perfect Sunday. :)
What a wonderful day! It was warm and sunny and I was able to knit for several hours today. Zee Red Scarf is finished!!!



What: Zee Red Scarf
Yarn: 1.5 skeins of Lion Brand Wool-Ease in the color Cranberry
Needles: Size 10.5 straight
Lessons Learned: Go slowly on the dropped stitches, it's very easy to mess them up!

Here's a picture of the scarf and the coat I made it for: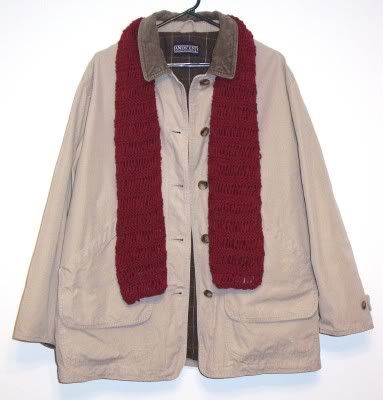 Of course, now that I finished the scarf, it's supposed to be 70 degrees tomorrow. I'll take the warmth, though. Zee Red Scarf will just have to wait for the next cold snap.

I am now down to just two projects on the needles. The Purple Blanket, which I haven't knit on in ages and the Two Tone Pink Blanket, which I don't even have a picture of! (Bad blogger!) I recently bought some Peaches 'n Cream yarn and want to make a washcloth. I can never have too many of them and think it would be fun to make my own. I've been downloading patterns for them and now just need to get the patience to try something new!

Sue stopped by to comment on my feelings about running. I think she feels the same way that I do. :)

When I got up this morning, I looked out the front window and saw this: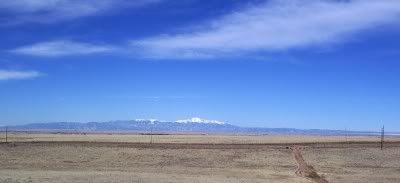 I resisted the urge to start singing Baby Blue. ("Baby blue, Like the Colorado skies..")

The dogs and I spent some time outside today, enjoying the almost spring like weather. I know we'll probably get more snow this spring, but it was nice to imagine that summer was on its way.

I learned a very important lesson today: When putting a pickle jar back into the fridge, don't lose your grip on the jar! If you do, very bad things will happen: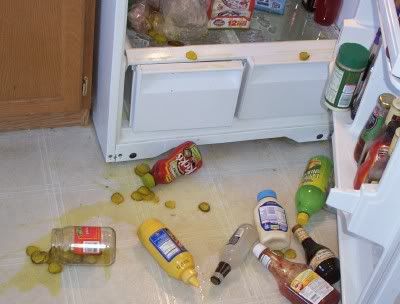 The pickle jar didn't just fall to the floor (but didn't break, yay!), it hit the bottom shelf in the door and broke that. What a mess! I said some very bad words when this happened. I had just made a yummy lunch: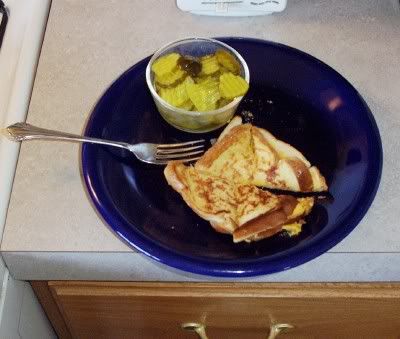 and had to delay eating while I cleaned up the mess. I did find out that Samantha likes pickles. The other two dogs wouldn't go near them, but Sam ate all the spilled pickles! Crazy mutt.

This week at work is going to be insanely busy. I'm not expecting to get much knitting time in until the weekend. :( Why must I work? It just gets in the way of the fun stuff!!