Blogging with Beethoven
I just want to say that I LOVE Beethoven's 9th. Absolutely love it. :)

In knitting news.....

P's blanket is blocked and finished! Yahooo!!!!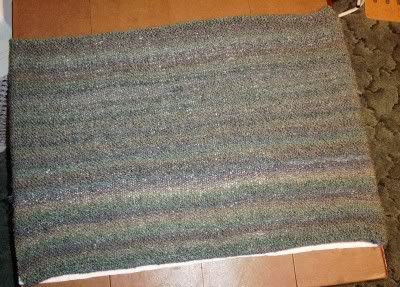 What: P's baby blanket
Yarn: 3 skeins of Lion Brand Homespun in the color Regency
Needles: #15 straight
Lesson Learned: Never, ever knit such a blanket on straight needles again! My wrists still hurt!

I'm packing this blanket away until P is further along in her pregnancy. (I never send baby gifts before the 5th or 6th month.....it's a superstition of mine.)

I also worked on the purple blanket tonight. I didn't take a picture because I didn't make a ton of progress (I was caught up in The Amazing Race.) I plan on doing a lot of knitting this weekend, though. Look at what a picked up at the library today: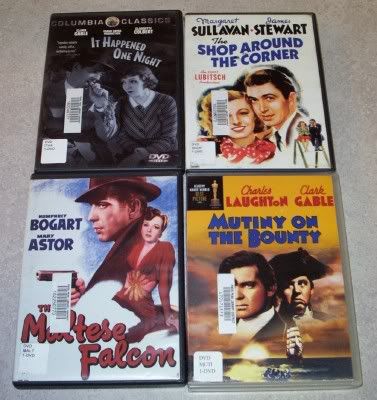 It's Classic Movie Weekend at Kathy's house! :) (Also known as a darn good excuse to sit on the couch and knit!)

While at the library, I also picked up this book: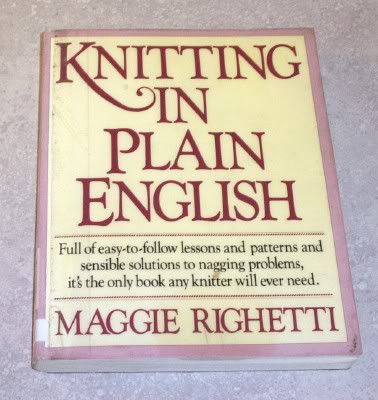 It's got wonderful sketches and instructions so I think it will be very helpful during my quest to master different stitches.

Birdsong stopped by the blog today. My purple blanket is very popular! I'm glad more people are discovering this awesome pattern. And thank you for the compliment on my blog name. It literally just hit me and I knew that it was the right name.

Jane swung by and shared in my purling excitement. :) Now, I just need to get the courage to actually purl on a project!

A note to any Firefox users: they've released an update. Go and download it here. And if you don't use Firefox, check it out. It's an awesome browser!