I'm a purling fool.
My knitting yesterday consisted of practicing my newly learned purl stitch. I practiced stockinette, ribbing and seed stitch. (Does the seed stitch look right?)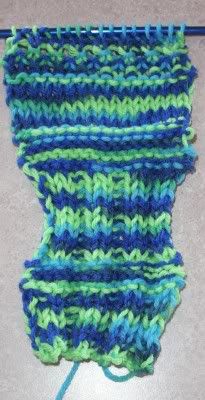 I didn't get as much practice done last night as I thought I would, because I was engrossed in
Oklahoma
. I had no clue that Hugh Jackman could sing! He has a fantastic voice.
Speaking of movies, I am going to knit and watch the
Oscars
tonight. I entered the Oscar contest in the
local newspaper
, so I need to keep track of how I'm doing. I'm also rooting for
Kate Winslet
to win Best Actress for
Eternal Sunshine of the Spotless Mind
. I absolutely LOVED this movie and was disappointed when it did not receive more nominations. (It's also up for
best original screenplay
)
I've spent most of today on the computer. I added a lot more blogs to my sidebar by using
bloglines
. I love bloglines!! It makes it soooo much easier to keep track of all the blogs I read.
Also today I've been downloading
free knitting patterns
and I now have about 10 more projects I want to knit. Help me. I am a woman obsessed.