Block, block, baby.
Oh, lord. With that title I seem to be channeling
Vanilla Ice
. Someone help me.
Before I get into my knitting
rambling
talk, I just have to say something. I still have my horrible sore throat. Since I do a lot of talking at my job, I stopped at 7-11 on the way to work. I thought it would be a good idea to get a Slurpee to soothe my throat. The 7-11's Slurpee machines were broken! Isn't that against the law or something? Isn't 7-11 known for their Slurpees? And yes, I realize in the grand scheme of life, this is unimportant. However, it annoyed me this morning.
On the knitting front.....P's blanket is done! Yay! I finished it last night and it's blocking right now. Want to sneak a peek at it?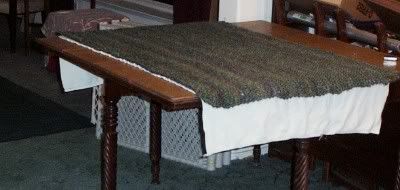 I'll take a finished product picture tomorrow.
I am really glad this blanket it done. Knitting it on straight needles was hell on my hands and wrists. I learned my lesson: circular needles from now on for all blankets!
Tonight I worked on the purple blanket.
And, a close up: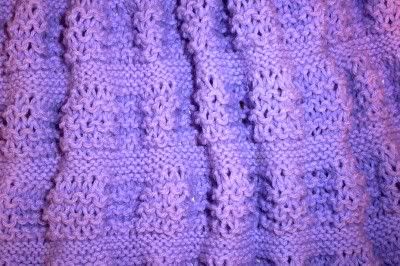 I know I sound like a broken record, but I LOVE this blanket! It's actually my only project on the needles right now. :: gasp ::
I want to say thank you to
Melanie
for assisting me with an html problem I was having with my blog. My sidebar thanks you, Melanie!
Pioggia
stopped buy with a tip about seed stitch (thank you!) and to inquire about my home repairs. I haven't repaired the heating ducts yet. I was just too tired after work today to stop at Home Depot. I'm using space heaters to keep the chill out of the house until I can fix the ducts.
My mother often tells me that my dogs live better than some children. (That's such a sad statement, but it is true.) What do you think?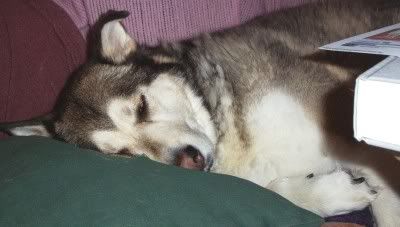 Tomorrow night is the premiere of my favorite show: The Amazing Race! So, I will be knitting tomorrow evening. I'll probably work on the purple blanket again. I'm really inspired by knitting this blanket lately.
Until next time, keep your feet on the ground and keep reaching for the stars.
(I began the post by channeling Vanilla Ice, so figured it was appropriate to end it with a shout out to Casey Kasem.)