Sunny Sunday
Today was such a wonderful day. I was up way too late last night (3am) fiddling with the html in this blog, so I slept in this morning. Most of the afternoon today was spent playing with the dogs outside and then this evening I knit while watching TV. The purple blanket inspired me tonight!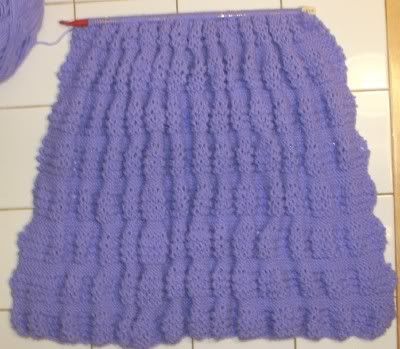 I apologize for the crappy quality of this picture, but you can see how big the blanket is getting.
I was looking over my stash tonight and I think I may be starting another blanket (what a shocker!) soon. The pink
TLC Amore yarn
is calling to me and I won't be able to resist much longer. Perhaps tomorrow I'll cast on something new, since I'll be home. Yay! Three day weekends are the best.
I've been tagged by
Pioggia
:
1. What was the last book you read or are reading?

I'm reading "Harry Potter and the Order of the Phoenix" right now.

2. Where did it come from (library, bookstore, gift, etc.)?

3. How many books do you read per year?

A lot less now that I'm knitting! I manage to get through 10-15 a year now.
4. What is your favorite genre?

5. Who will you tag now?

This is all for tonight. I'm not very chatty this evening. Until next time, keep the needles clicking!