Holiday Weekend
I love long weekends. I got all of my cleaning and laundry done this afternoon, so I can enjoy the rest of my mini-vacation.
I finally pulled out the needles this evening (haven't knitted since Thursday, ack!). First, I worked on the purple blanket: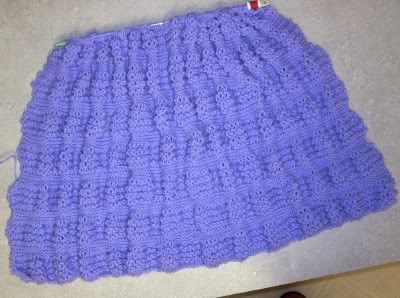 For some reason, this blanket didn't hold my interest tonight, so I switched to the Apple Peacock Blanket: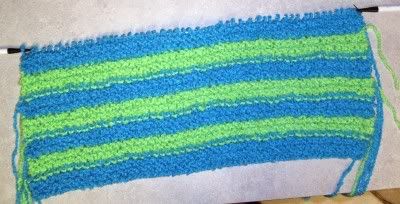 This one is coming along so quickly, I expect to finish it this weekend!
I added three blogs to the sidebar today:
Rabbitch
,
Froggy
, and
Michelle
.
I joined three webrings today. Thank you to
Pioggia
for mentioning Acrylics Anonymous and to
Melanie
for pointing the way!
Melanie
also pointed me to The Purling Puppies webring. During my blog surfing today I found the I Knit A Mile High webring.
Speaking of 'mile high', I should take this time to point out the obvious (since I joined the Mile High ring): I live in
Colorado
. Specifically, I live on the plains east of
Colorado Springs
, at about 6500 feet in elevation.
I'm not a native of Colorado (those are few and far between), but I moved here in 1997 from the place I affectionately call
The Great White North
. While I miss the numerous lakes and rivers of northern Michigan, I prefer the climate and landscape of my adopted state.
Here is my backyard:
On my drive to work each morning, I get to see this:
Nothing like those views to banish the blues!
I recently added a
Stat Counter
to my blog. This thing is so cool! And, it's free!
Now, for a truly random question. How on earth did I not hear about this nectar of the gods?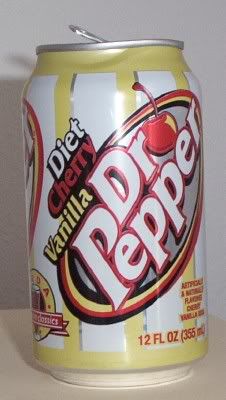 I have a new favorite drink!
For my final thought today, I'm going to plug one of my favorite charities:
Locks of Love
. If you have long hair and are going to cut it, please consider donating to this wonderful organization.