Back to reality
Yes, today it was back to work, back to the reality of life. I worked late (again), but stopped at Jo-Ann on the way home. This
tote bag
that I've had my eye on for a couple months was on sale. The tote was marked down to $23 in the store. A girl can't pass up $17 in savings, can she? Here's the tote, once I got it home and filled it with my current projects: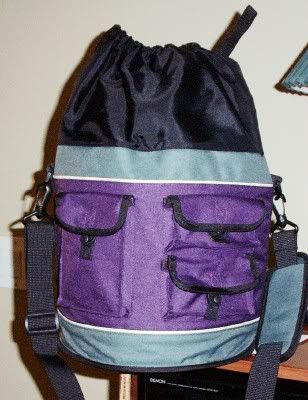 I'm very happy with this tote, it's the perfect size and shape!
And, since I got a good deal on the tote, that meant I could check out the yarn, right? :) I came home with this: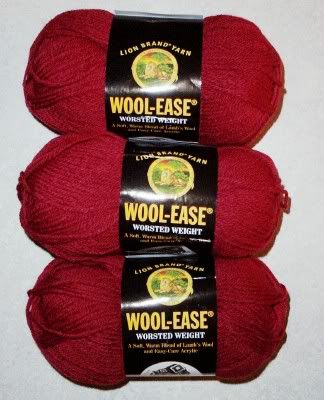 This yarn is destined to be a scarf for me. It's a cranberry color, not the red color that the picture is showing.
The Apple Peacock Blanket is finished!
What:
Apple Peacock Blanket
Yarn:
Patons Melody Quick & Cozy
, 1 skien of Apple Green and 1 skein of Peacock
Needles:
#17, circular
Lesson Learned:
I love this yarn!
I was searching the Internet this weekend for a knitting group in my area. I found a newly formed Stitch 'n Bitch Group in Colorado Springs and emailed the leader. They meet every other Sunday and this Sunday is their second meeting. They have 8 members so far and the leader was very friendly and welcoming in her email response to me. So, I think I will venture to town this weekend to see if I can finally hook up with some real life knitting buddies. (No offense to my on-line buddies, of course. ;) )
While I was cooking dinner tonight, the girls were in the kitchen with me, looking pretty cute. So, of course, I had to snap a picture!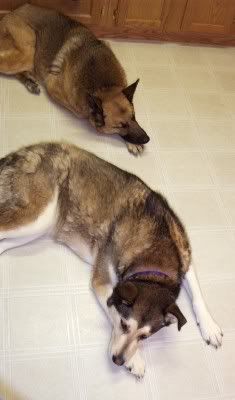 Later on, Max was determined to get Samantha to play with him: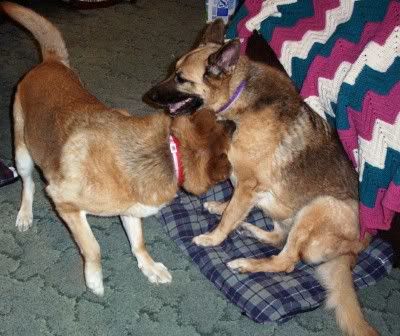 After about 10 minutes of him dive bombing her, she finally gave in and kicked his butt. (He loves this, the crazy mutt.)
I know I'm biased, but I think this picture of Kishka is pretty darn adorable: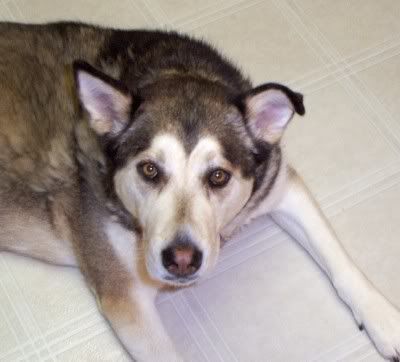 This picture shows her severe
widow's peak
, which is how she got the nickname Eddie. As in
Eddie Munster
. (And yes, she answer to 'Eddie', as well as 'Kishka'.)
There was no knitting today. In lieu of knitting, I'm going to be responsible and go to bed. I'm pooped and have a hectic day tomorrow.
Until next time, happy knitting!