Ah, Saturday.
Today was a wonderfully (is that a real word or just a Kathy word?) relaxing day. After the dogs got me up at 7am to go outside, I was able to sleep in. I spent my afternoon reading, watching TV, taking a long hot bath and even managed a short nap.
Once evening rolled around it was time to knit! I spent about 3 hours knitting tonight while watching a Seinfeld DVD. I always knit on the couch (I'm such a creature of habit) and the dogs always keep me company. Here's the weird part, though.....I think they've worked out some kind of schedule in regards to who gets to be on the couch with me. When I started knitting, Kishka jumped up: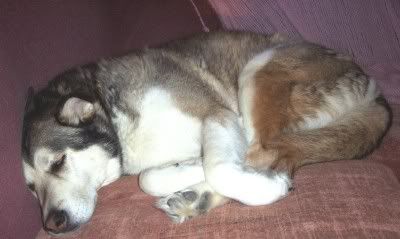 About an hour later, she jumped off the couch and Samantha took her place: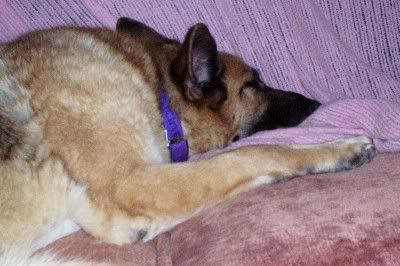 Then, about an hour after that (are you catching the pattern here? :) ) Max joined me. Max, however, doesn't sleep. He has to keep an eye on the yarn to make sure it doesn't attack me: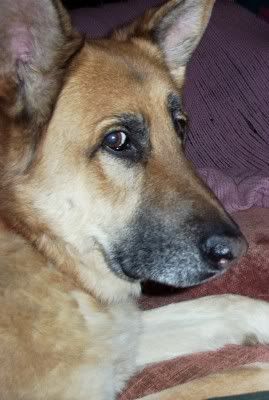 An evening of knitting, dogs at my side and a good DVD....what else does a girl need to be happy?
I worked on the purple ruffle blanket tonight. Here is what it looks like now: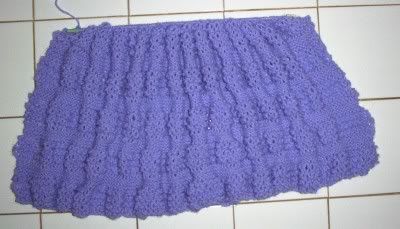 It's slowly, but surely, coming along!
When I was looking at it tonight I found (gasp!) a mistake!! In the first few rows!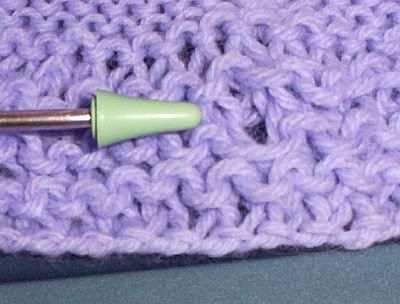 That mistake is going to stay there because there is no way I'm frogging 98% of the blanket to fix it. :-)
I'm a member of the
Knitting-Chicks Yahoo Group
and I highly recommend this group if you're looking for a knitting group. I'm a new member and the ladies are just wonderful and full of knowledge.
Today on the knitting group, the talk turned to dishcloths and what kind of yarn to use for them. I recommended
Sugar 'n Cream yarn
, even though I've never personally knit with this yarn. My late grandmother was a dishcloth knitting machine. Every member of my family has dozens of them and all were made with this yarn. While the group was discussing dishcloths today, I realized that the batch of dishcloths I'm using are the same ones I started using in my first apartment. This was in the early 1990's! That's some durable yarn! I took a photo of a few of the dishcloths to show how well they've held up: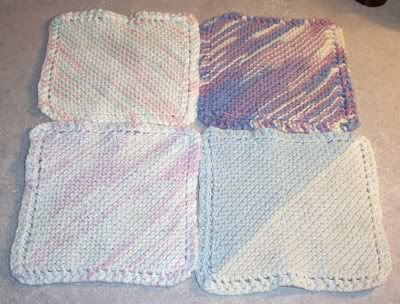 The colors are not bright anymore, but this isn't the fault of the yarn. (It's due toThe Unfortunate Laundry Incident of 1998. :-) )
One of my favorite knitting blogs is
Yarn Harlot
The Yarn Harlot is just hilarious. Her recent story about the death of her family's fish had me laughing until I cried.
I also enjoy reading
Med Student Who Knits
This knitter is so talented that she can read and knit at the same time!
While I was reading knitting blogs today, I realized something. Most of the bloggers are making these gorgeous sweaters. I don't wear sweaters. No one I know wears sweaters. So, I guess I will not be knitting any sweaters. That's actually fine with me, though. As basic as my knitting is, I do love doing it and that's the important thing.