Blocking and stashing.
This morning at work a co-worker of mine stepped outside and saw a heart shaped cloud. Luckily, he had his camera phone with him and snapped this picture: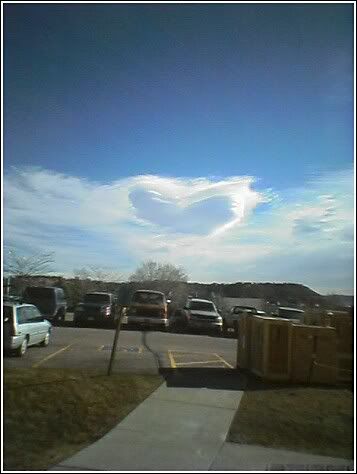 Here is a close up of the cloud: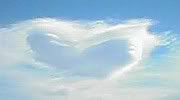 A heart shaped cloud on Valentine's Day.....what are the odds? :)
J's pastel baby blanket is off the needles and is blocking at this very moment! (Pictures to come tomorrow.) I was very excited to finish this project and am very pleased with how it turned out.
Tomorrow I hope to work more on the purple blanket. For some reason, P's green blanket just isn't calling to me lately. I don't know why, but I'm just uninspired.
I may start another project tomorrow, too. Tonight I sketched out the color pattern for another blanket: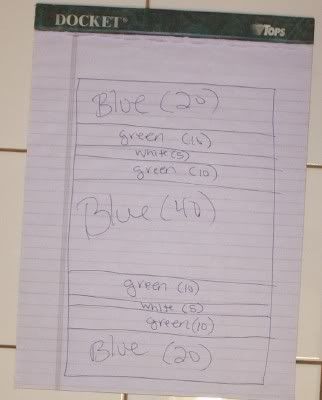 It's very basic, but I think it will look nice.
My stash grew today. :) I swung by Wally World to get some bread and milk and what do you know.........my feet walked over to the yarn. However, I was
just looking.


Here's what I brought home:
2 more skeins of Baby Clouds to accent yarn I already have: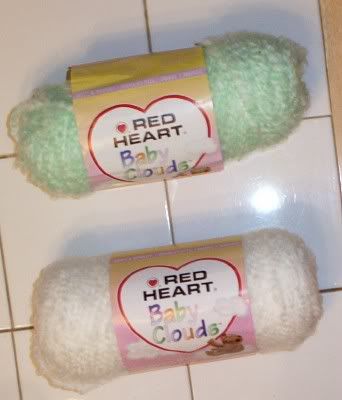 And four skeins of super soft yarn: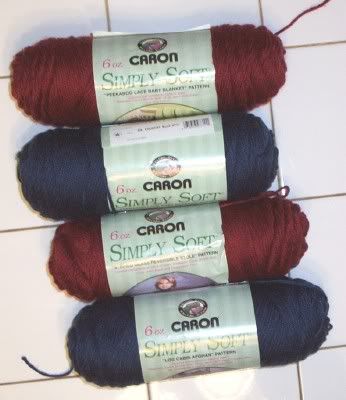 I am not a red person, but I love this shade of red. It's called "Autumn Red" and is just beautiful. I'm going to pair it with a deep navy blue. I don't know when I'll start this project, I'm still thinking about it.
I'd like to say
thank you
to Kitt for her encouragement in regards to my purling. Once I find some patience, I'll give it another try. :) Also, thank you for the tip on untwisting my circular needles. I have added
Kitt's blog to my sidebar. I've actually been reading it for a few days now. Kudos to her for her breast cancer awareness skin.

The other blog I'll highlight today is Cheap Knitter. A knitter after my own heart! It's not about the fancy yarn you use, it's about the experience!

I'm taking tomorrow off from work, so I will be knitting! I'm tossing around a couple different blanket ideas in my head, so we'll see what appears on the needles tomorrow.