The great picture show.
I finally got the camera out tonight and took pictures!
When I decided to start knitting again, I picked up the cheapest yarn I could find to practice with. The three results are below:
Practice Piece #1
Wow. Look at those stitches! No wonder Grams lost patience with me.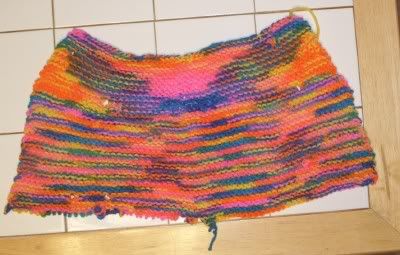 Practice Piece #2
Looking better, but still nothing to write home to Mom about.

Practice Piece #3
I think I'm finally getting the hang of this!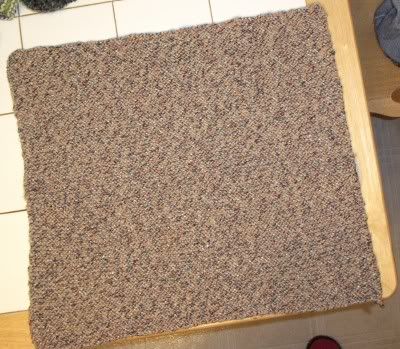 After these three practice pieces, I decided to try actual projects. I present to you.......
Project #1
This was knit with the cheapest Red Heart available and size 13 needles.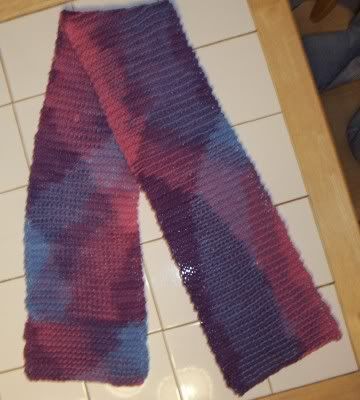 Project #2
This was also knit with size 13 needles and I used Lion Brand Mohair. The yarn felt fine in the skein, but once it was knitted up it became very scratchy. I won't use this yarn again.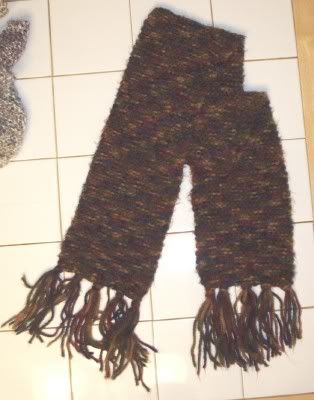 Project #3
I just completed this a couple weekends ago. It's a scarf/wrap. It's very windy where I live and when the wind is bitter cold I wrap this around my entire head, face and neck so I stay cozy warm. :)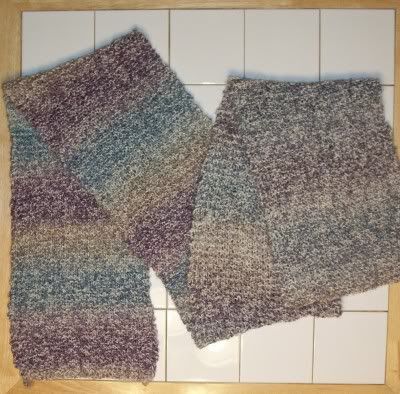 This was knit on size 13 needles, using Lion Brand Homespun in the Tudor color. I
LOVE

this yarn and am already using it again!


I currently have four projects on the needles. I introduce you too..............



J baby blanket


J has been my best friend since we were 7 years old and she truly is the sister I never had. We live across the country from one another, but send dozens of emails daily. When my life imploded last fall, she was there to help me pick up the pieces.

J and G married almost 2 years ago and are expecting their first child. I'm going to be an Aunt!! I finally understand what being 'over the moon' with happiness means.




I'm knitting this on size 17 circulars, with Baby Clouds yarn in the color Pastels. I was skeptical about this yarn, but it is just wonderful. The blanket is so soft and fluffy. Just like, well, clouds! I have already bought more of this yarn.

Here's a close up: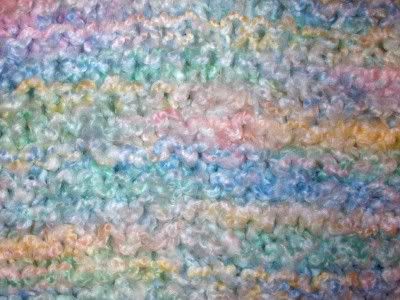 P baby blanket
P and I are online friends. She lives in Australia and is pregnant with her second child. She's not a fan of the typical (pastel) baby colors, so picked out this bold greenish-bluish color for her.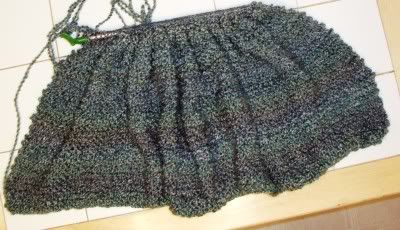 I'm knitting this on size 15 needles, using that wonderful Lion Brand Homespun yarn. This time in the color Regency.
And now, for the close up: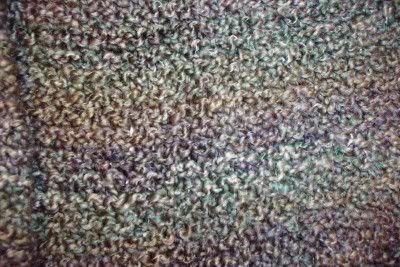 Ruffle blanket
This started as a practice blanket, intended for me to practice this pattern. However, if I may brag, it's turning out just beautiful. If J has a girl, this blanket will also go to her.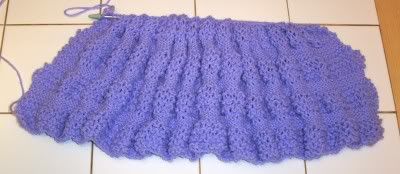 This is being knit on size 15 and size 5 needles, using Lion Brand Pound of Love yarn in the color lavender. The color isn't exactly accurate in these pics. The color is the exact shade of lilacs. :) I'm very pleased with this yarn. I didn't expect it to knit up so well and will purchase it again. I've noticed a yummy raspberry color and that may find it's way into my stash.
Are you squinting to make out the pattern? No need, here's a close up: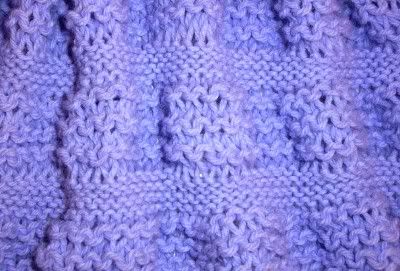 Mindless project
None of my projects require a whole lot of brain power, but this is my 'mindless' project. I work on it when my brain is totally fried, or when I'm engrossed in a movie. I can knit this without looking and don't freak out if I make a mistake. It's going to be a large throw/afghan for me to keep. With three dogs, I'm always in need of blankets to toss over the couch.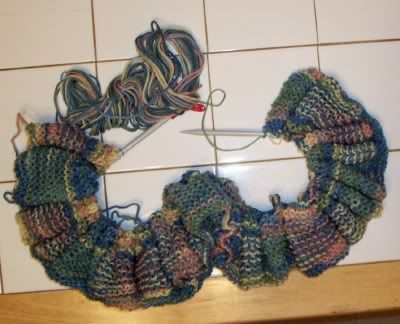 I'm knitting it on circular needles (I think they're size 10 or 10.5) and basic Red Heart Super Saver yarn.
My last picture is of The Stash. Every self-respecting knitter has a stash and while mine is not very big (yet!), I do enjoy fawning over it from time to time: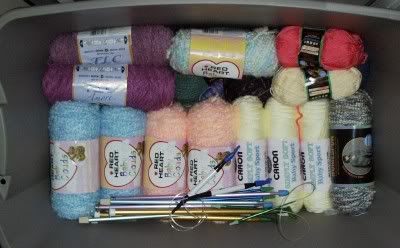 Can you see them in the bin? There's my next seven projects!