The Stash Grows
Yes, you read that title right. The Stash has grown. As if I didn't have enough yarn, I ended up at
Jo-Ann
on the way home from work. It's the car's fault, really. I was just riding along. :)
So, since the car took me there, I had to walk in the store, right? I was only going to buy one or two skeins of yarn. I think I need to relearn how to count. I came home with this: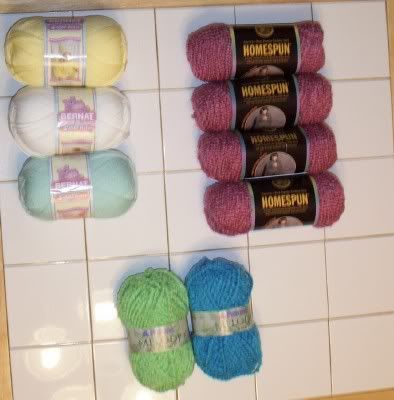 On the upper left is
Bernat Yarn in the colors White, Mint and Lemon. I'm thinking that this yarn will make a lovely gender neutral baby blanket.
On the upper right is
Lion Brand Homespun Yarn
in the color Boston Rose. This yarn is destined to be a blanket for me! I can't wait!
Finally, on the bottom is
Patons Melody Quick & Cozy Yarn
in the colors Peacock and Apple Green.
I was so excited about my new yarn that I came right home and started this:

This is hereby dubbed the Apple Peacock Blanket.
In previous posts, I've waxed poetic about my love for
Lion Brand Homespun Yarn. Well, I fear that this torrid affair is over.
Patons Melody Quick & Cozy Yarn
has won over my heart and most importantly, my needles. This yarn knits like a dream. It's the softest yarn I've found so far and the colors are spectacular! I
will
be buying this yarn again (and again, I'm sure).
That's all the knitting I did tonight. I got home from work (and, *ahem* Jo-Ann) a bit late, but tomorrow night is my TV night. You know what that means? Three hours of knitting, baby!! I cannot wait!!
In other news, my dogs are apparently offended by one of their dog beds. I came home to this today: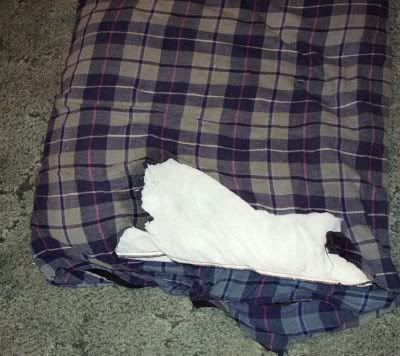 I'm anticipating colorful droppings in the backyard tomorrow. Yuck.
Pioggia
asked about my dogs. She is wondering about the sex of the furry monsters and their barking habits. Max the Shepherd is a neutered male. Samantha (Shepherd) and Kishka (Husky mix) are spayed females. Max is actually the barker of the bunch. He barks at the wind, TV shows, music on the radio, the voices in his head, the cats.....you get the idea. Samantha and Kishka aren't as barky (I think that's another Kathy word, not found in your local dictionary). Kishka "woos" (like a coyote) and Samantha only barks if there's something wrong (car in the driveway, antelope near the house, etc.) None of them growl very often. If their playing gets rough, they will growl to warn each other that they've gone too far. The only other time they growl is if there's something outside the house that they perceive as a threat. (And it
really
freaks me out when they do this!) 99% of the time they are wonderful dogs and they are very protective of me. That's a good thing. :)
Disclaimer: In the hopes of not being one of those Crazy Dog People, I try not to ramble too much about my dogs. If, however, you ask me a question about them, all bets are off! :-)
Ruinwen
complimented me on my blog and now I'm
blushing
. Really. Thank you so much, Ruinwen. This is my first blog and I was very nervous about starting it, so the feedback is much appreciated! I've added Ruinwen to my sidebar. Check her out. :)
Addie
stopped by the blog, too. Addie isn't a knitter, but was drawn in by the heart shaped cloud from Valentine's Day. I agree, Addie. I've got a copy of that picture hanging in my office at work.
Melanie
asked about the pattern for the purple blanket. I was Googling one day for a simple baby blanket and found the pattern
here
. The pattern calls for #3 and #13 needles, but I'm using #5 and #15. Don't forget to checkout Melanie's blog. She's in the sidebar, too.
Another new addition to the sidebar is
witchypooh
. Witchypooh makes very cool bags and socks. I want to be like her when I grow up.