Sunday. Just Sunday.
I'm dead tired (why, I have no clue, I slept 12 hours last night!) and what am I doing? Finding new knitting blogs to read! I'm hopeless. Just hopeless. I have to be up in 6.5 hours and I'm not even close to going to bed. I'll pay for it tomorrow, I'm sure.
This blog seems to be turning into a diary of sorts, as well as my knitting blog. I think that's okay. I've kept diaries at various times during my life and always enjoy going back and reading them. Nothing with get too personal here, though, since my main focus is knitting. :-)
Today was another good day. I slept in and spent the afternoon and evening on the couch, knitting! My focus for much of the day was J's baby blanket. It's almost done, only 1/2 a skein left. Here's what it looks like today: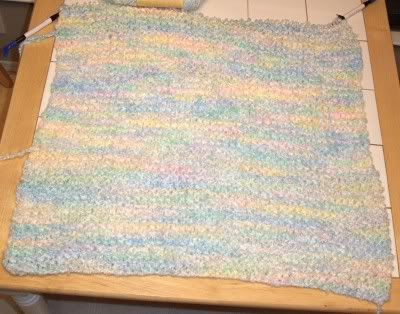 This blanket was a touch frustrating today. My needles kept twisting. If anyone reading has tips on how to keep circular needles from twisting, could you drop me a comment? Thank you!
I also worked on my purling tonight. It's confession time. I call myself a knitter, but I can't even purl! Actually, I can, but I just suck at it. The first time I tried to teach myself to purl was several months ago. The experience is burned in my brain as a horrible one. Full of cursing and eventually throwing the needles across the room in frustration. Tonight's attempt was a bit better. I actually did really well for about 3 rows and then just mucked everything up. It was ugly. I stopped before frustration set in, though, and will try again another day. I will master this!
This will be a short week at work. I'm taking Tuesday off and plan to spend it knitting. I think I'm obsessed.