Another year older and a whole lot wiser.
I did not knit as much as I expected to today. I slept in and then spent much of the day goofing off. I finally pulled out the knitting in the early evening.
Tonight I worked on the purple blanket.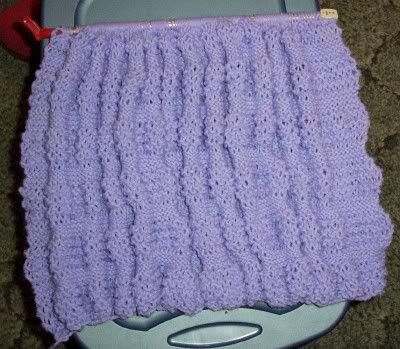 The more I knit this blanket, the more I love it. The pattern just looks better and better as each row is completed. I will definitely use this pattern again. I'm even considering knitting a very large blanket for myself with this pattern. I don't know if I have the patience for that, though!
Also, tonight, I frogged my Mindless project.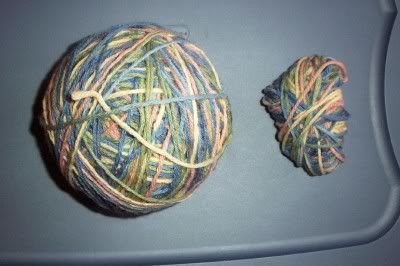 I decided I wanted to use the needles for something else. I have a couple of new blanket designs clattering around in my brain, and I'm just waiting for that key moment of inspiration where I know exactly what I want to knit.
I should have named this blog "Knits Only Blankets". I spent a far amout of time today surfing other knitting blogs. The various projects inspire me and make me want to knit sweaters, mittens, socks, etc. etc. However, when I step back, it makes no sense. As I said earlier, no one I know wears sweaters. I have quite a sweater collection from my days living in The Great White North, but I haven't worn a sweater in years. I also own tons of mittens, so no need for those. I do want to learn to knit socks, but am not feeling the urge to do it just yet.
So, for now, I will remain The Blanket Queen. :)
Speaking of blankets, here is J's finished blanket: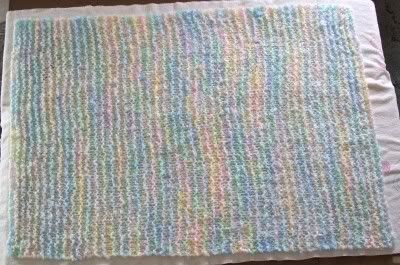 What:
Baby blanket for J
Yarn:
Three skeins of Red Heart Baby Clouds in color Pastels
Needles:
#17, circular
Lessons Learned:
Untwist circs
before
using them!
To answer
Pioggia's
question about what the new red and blue yarn will become: why, a blanket, of course! :) I'm visualing something in narrow stripes. And thank you, Pioggia, for the tip on washing it. I do appreciate it.
An unfortunate incident occured this evening. The dogs were playing in the house (which looks like this):
and one of them collided with a floor lamp and knocked it over. Who knew a floor lamp could crash/explode in such a spectacular fashion? It sent all three dogs scurrying to various far flung rooms of the house. Hmpf. And they call themselves watch dogs.....
Please note: no dogs are ever harmed when I speak of dog playing/fighting. :) The Shepherds get quite rambunctious, but there is rarely an injury. The Husky is the smart one: she stays out of the way and barks the commentary. ("And Sam is in with a bite to the left paw, Max goes down, but not without a fight!")
Until next time, keep the needles clicking!