By hook or by crook.
Do you ever have a weekend so fantastic that you just keep thinking about it and smiling?
That's what this past weekend was for me. There was a ton of knitting and many hours of this: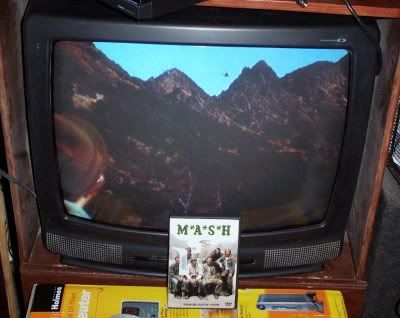 That's Season One of M*A*S*H, my all time favorite TV show. How much do I love this show?
Just ask him:
His full name is Maxwell Klinger.
Saturday, of course, was
knit group
. After the knitting ended,
Christy
and I went out to lunch and then hit Barnes and Noble. Christy and I had a blast reading the knitting books and magazine.
Well, I'll be honest: there wasn't a lot of reading going on. It was mostly mocking the butt ugly patterns in the magazines. Have you seen what's out there? It was horrifying. One pattern was a sweater with
pom poms hanging off of it!!!!!
Christy and I both succumbed to the lure of knitting books. I bought this one: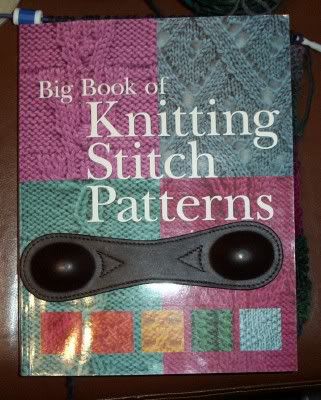 I also bought the book weight. I've been avoiding buying one (because I'm such a cheapskate), but everything else I've tried has just irritated the heck out of me. I'm very happy I finally bought the weight. It's works perfectly!
I have started Lilac (again) and am thrilled with how it's developing: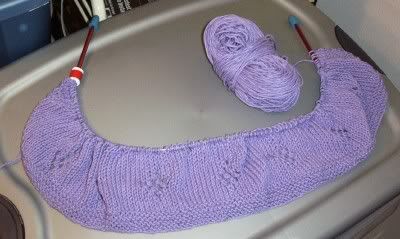 And a close up: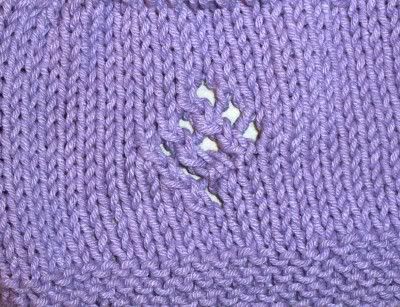 Unfortunately, there's been backwards progress on my socks: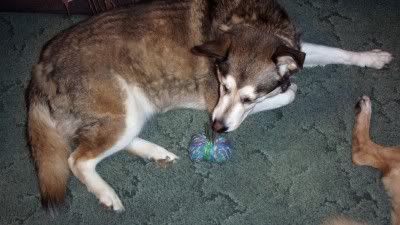 I cast them on for the fifth time last week and frogged them a few days ago. I had dropped stitches and was short rowing instead of knitting in the round. I was having trouble coming up with a name for these socks. Tonight, the perfect name hit me: The Damn Socks. I'll cast them on (AGAIN!) once I stop hating even the look of dpn's.
I've been obsessed with a new project lately: My Scarf: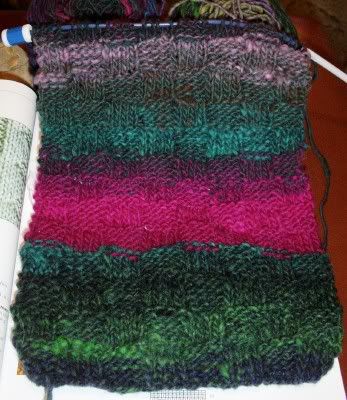 And a close up: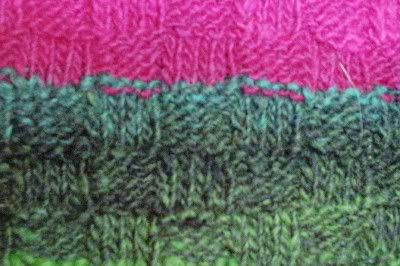 This is being knit with one skein of
Noro
that Christy gave me and one skein of Noro that she helped me pick out. I LOVE how the scarf is turning out.
And lookie here, what's this?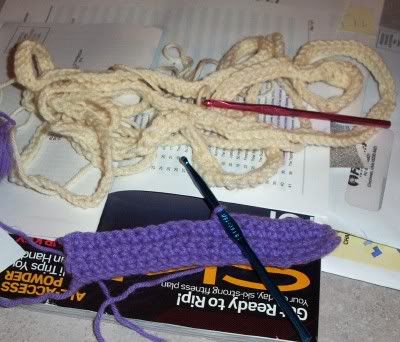 Yes, I am crocheting!
Maus
and
Felicia
taught me at the bonus knit group on Sunday. I'm having so much fun! I'm slow and awkward, but am loving it so far.
Also at the bonus knit group, Maus gave Felicia some yarn and Felicia shared it with me: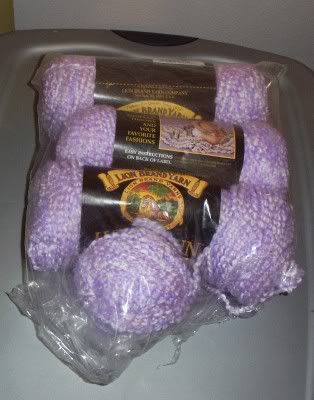 There's been an odd dog development around here lately. The girls are hanging out.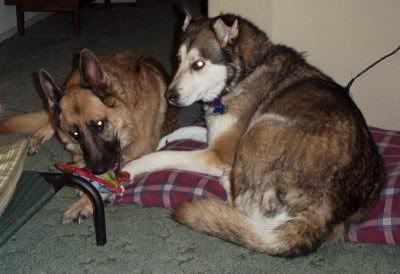 All of my mutts get along, but usually the Shepherds hang out together and Kishka hangs out with me. For the past few days, though, the girls have been inseparable.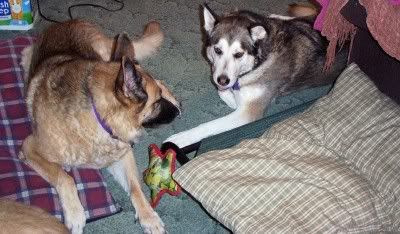 It'll be interesting to see if this is a permanent development.