Misdiagnosis
Remember a few posts ago when I said I had Startitis?
I was wrong.
I have knitting ADD.
I have started more projects.
Here is a Booga bag: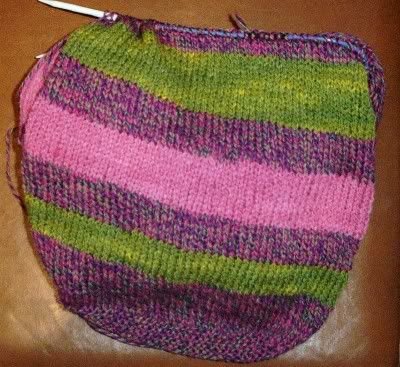 And Roger: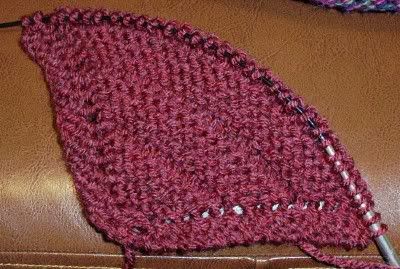 The still unamed socks that I have started FOUR times because I'm too dim to do K1P1: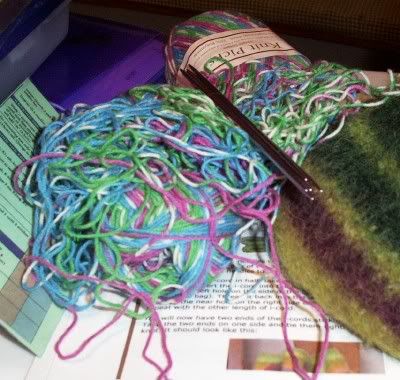 And a shawl which I will cast on soon: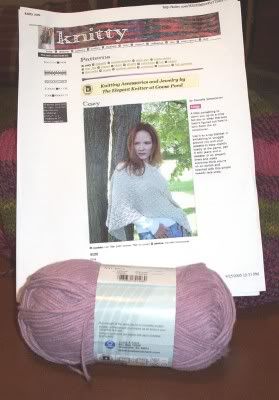 I have made progress on the Falling Leaves Blanket: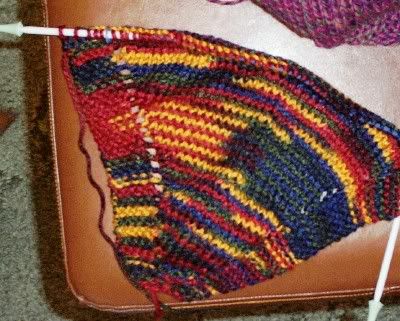 Speaking of the Booga bag, I have been wanting to make one of these for forever. However, one line in the pattern kept stopping me: "Knit 5-6 feet of i-cord."
Five to six FEET of i-cord? I would rather gouge my eyes out with flaming dpn's than knit that much i-cord. The three feet that I knit for my little green bag damn near killed me.
I know that there's no law that says you have to use i-cord on Booga, but I do love the look of it. I just hate knitting it.
Anyway......I dove into the Booga bag, hoping I would learn to love i-cord by the time I had to knit it.
And no, it didn't work.
So, this evening I dragged myself to Hobby Lobby to buy some 10.5 dpn's. As I was looking for the needles, something called my name. I turned, and saw this: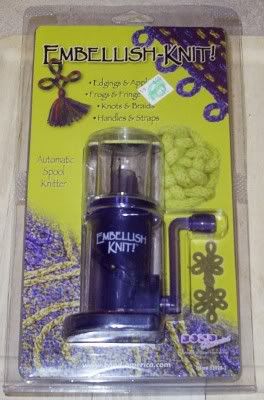 It's an i-cord factory!!!!!!!!!!!!!!!!!!!!!!!!!!!!
Well, that's not the offical name, but trust me. That's what it is.
It was only $6 more than the dpn's, so I grabbed it and damn near skipped out of the store.
All the way home I was fretting. I'm a
bit of a
major cheapskate and this was a lot of money for something I could do by hand. I worried my way over the 40+ miles home.
I needn't have worried. I am in love with this thing!!! I made this much i-cord: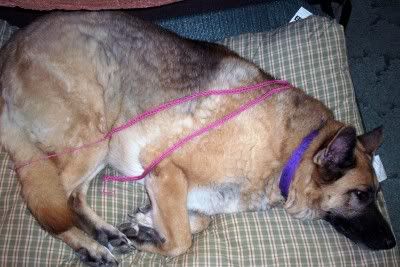 in LESS THAN FIVE MINUTES!!!!!!!!!!!!!!!!!!!!!
It was worth every cent that I paid. I-cord is fun! I *heart* i-cord!
(Note to the
KWA-ers
, if you need to make i-cord, I will be happy to share. :) )
Also at Hobby Lobby, I found this:

And promptly turned it into a dpn case: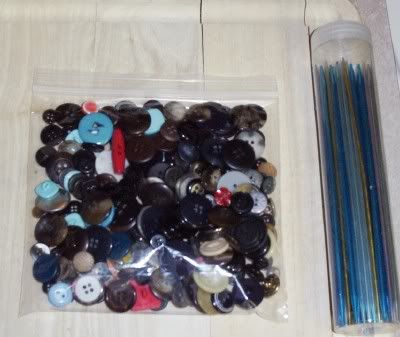 (Another note to my
knit group
: if any of you want these buttons, let me know. I have no use for them.)
I'm excited about this weekend. I plan on making it to
knit group
on both Saturday and Sunday.
Sunday will be sad, though. We will be saying goodbye to
Ann
. She's moving away. Hopefully it's only for a few months because she will be missed.
Lots.
Kishka was being really cute tonight, so I snapped a picture. Unfortunately, I take pictures about as well as I K1P1: