TGIF
Presenting.............my felted bags!!!
Kishka wasn't too impressed by the first one (and neither was I):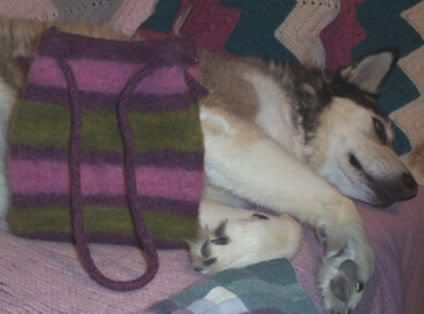 However, I LOVE the second bag. Kishka, on the other hand, wasn't so sure about it: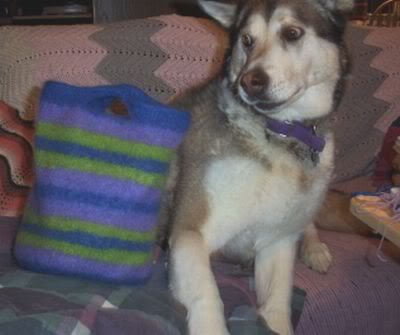 The details: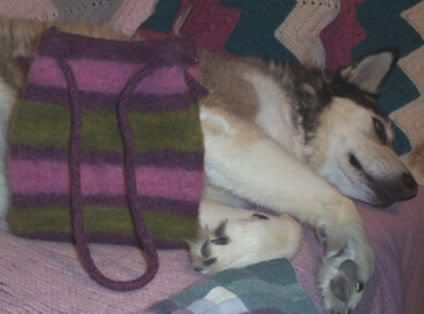 What:
My first Booga Bag
Yarn:
One skein
Cascade Quatro yarn in color #9440
, and 2 skeins of yarn from
Table Rock Llamas
. 1 skein pink and 1 skein green.
Needles:
10.5
Pattern:
Booga Bag
Lesson Learned:
I think it's the floppy yarn, but I don't really like this bag. I don't like things that are floppy.
Destination:
Moi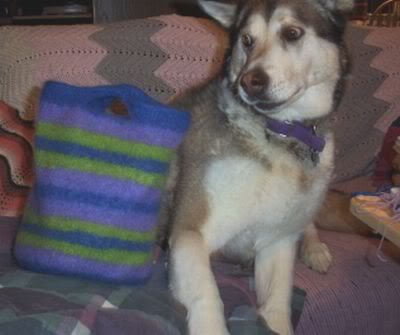 What:
Another felted bag!
Yarn:
1 skein each of
Lamb's Pride Bulky in colors Blue Boy, Supreme Purple and Limeade
Needles:
13
Pattern:
I just knit what I felt like knitting until I got to the handles. Then I modified the
Buttonhole Bag handles
to fit the size of my bag.
L
esson Learned:
I LOVE this bag! I think it's the yarn.
Christy
suggested both the yarn and the colors and she was right: I love how this bag looks!
Destination:
Just try to grab it out my hands.
I cleaned up the sidebar on my blog, deleting obsolete links and fixing the spacing. If you find any dead links, please let me know.
I added a new button on my sidebar for
Crazy Monkey Creations
. What do crazy monkeys have to do with knitting?
Christy
and her hubby own the company and they dyed the kick ass yarn that I mentioned earlier this week: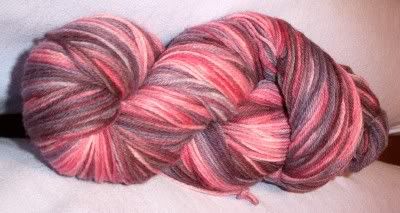 And in balls: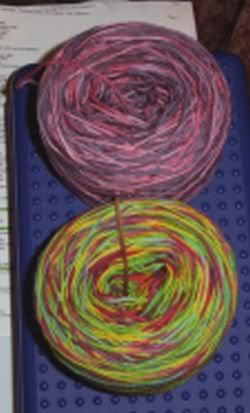 This yarn is fantastic. Christy is having fun experimenting with colors and those of us lucky enough to be in
knit group
with her are having fun buying it! If you like hand dyed yarn, check her out. You won't regret it.