Cleaning and new yarn
I've spent today cleaning and doing laundry. My Molly Homemaker duties are complete and there is nothing I have to do until 5am Tuesday morning.
I plan to knit my fingers off. :)
I'd like to thank
Marnie
for her generous donation of yarn: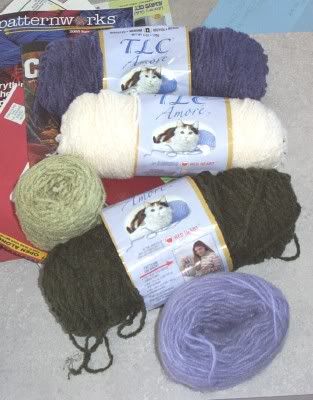 Marnie was de-stashing and gave me this yarn to use for
Warm The World
projects. Thank you, Marnie! I really appreciate it.
Leisel
left me a comment that made me laugh out loud. In my post last Sunday (when I was sick), I mentioned that when I'm sick, I lose my 'edit' function. To which Leisel said, "Um... you have an edit function? Whodathunkit?".
Good point, Leisel, but yes....I do have an edit function. However, I don't usually use it at
KWA
.
If you're a dog nut, make sure you go visit
Leisel
. She has a new puppy!
Don't forget: