Another day, another FO.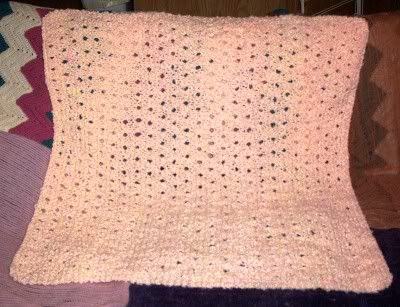 What:
Orange Sherbert Blanket
Yarn:
3 skeins of
Red Heart Baby Clouds in the color Creamsicle
Needles:
15
Pattern:
Angel Baby
Lesson Learned:
This pattern is interesting enough to prevent boredom and mindless enough to be the perfect TV watching pattern.
Destination:
Warm The World
Today after
knit group
,
Ann
,
Christy
, Blogless MJ and I headed for
Table Rock Llamas
.
Wow. We had quite the good time. I think we fondled every skein of yarn and every bit of roving in the store. We all agreed that the silk roving was too wonderful for words.
Christy
and I devoured several cubbies of yarn. We plopped down on the floor and pulled all the yarn out of the cubbies. Then we fondled and oohed-and-ahhed over every single skein. Most of them multiple times. All of our noisy squeals brought Blogless MJ into the room. She bought a couple skeins, too.
I came home with this: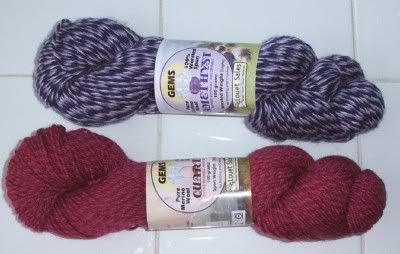 Yes, I know I'm on a yarn diet. I had to buy them. The girls made me. Honest.
And no, we won't talk about the fact that I have a sock yarn stash and have never made socks.
I was going to make socks tonight, but got distracted. I decided to make a baby hat for J, to go with her baby blanket. However, I screwed it up twice and have yet to cast on a third time. I'm either staying up tonight to conquer this damn hat, or will do it tomorrow.