An FO, a couple memes and more, I'm sure
I got a bug in my butt for a finished project last night and came up with this: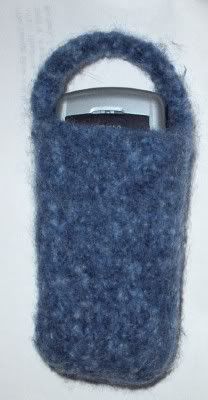 What:
Felted cell phone case
Yarn:
A little bit (way less than even 1/2 a skein) of
Patons Classic Merino Wool in the color Denim Marl
Needles:
size 9 for the case and size 8 for the i-cord
Pattern:
I made it up as I went along
Lesson Learned:
Felting is fun!
Destination:
Already in my purse. :)
I got tagged twice in one day. Lucky me!
Birdsong
tagged me with the "The 23rd post" meme. Here's how you do it:
1. Go into your archive.
2. Find your 23rd post (or closest to).
3. Find the fifth sentence (or closest to).
4. Post the text of the sentence in your blog along with these instructions.
5. Tag five people to do the same.
My 23rd, 5th sentence reads: "That's why I'm so surprised at how sad I am about the loss of Chris LeDoux. "
My favorite singer is Chris LeDoux and he died much, much too soon. The above post was from the day he died, back in March.
I'm not going to tag five people. I'm too lazy. Instead, I'll tag
Melanie
and
Felicia
.
My other meme is from
KnitNana
. This is the "Name 6 of your favorite songs" meme.
In no particular order:
Fields of Gold, sung by Eva Cassidy. Her version of this song is magical.
The Dance by Garth Brooks. This song has helped me get through the worst times of my life: "Yes my life is better left to chance. I could have missed the pain but I'd of had to miss the dance "
Melt With You by Modern English. I don't know what it is, but I've always loved this song and hearing it never fails to put me in a great mood.
Sister Christian by Night Ranger. It's not the song that I love, but the memories that come back whenever I hear it: my best friend and I (around age 13), laughing, dreaming and just having one hell of a good time.
Western Skies by Chris LeDoux. Hearing this song reminds me of why I love where I live.
Where Were You by Alan Jackson. This song is still hard for me to listen to, but it brings me back to reality and reminds me what is important in life.


I think for this meme I'm going to tag my
knit group
buddies
Christy
and
Leisel
. If Blogless MJ had a blog, I'd tag her, but she doesn't. So, she misses out. :)
I'm down to 2 projects on my needles: My mom's shawl and the Touch of Red Blanket. I must start something else!!
I met Nan from
Warm The World
yesterday and gave her five blankets and two scarves. She gave me a huge bag of the bulky yarn that I love: Homespun, Watercolors and Wool-ease Thick and Quick. Yay!
I think I'm going to cast on a sock next. Wish me luck.