Notes and comments
My kitchen sink is fixed. Lots of sweat and plenty of cursing was involved, but it is repaired. I discovered a couple of things while doing this repair and both are in the picture: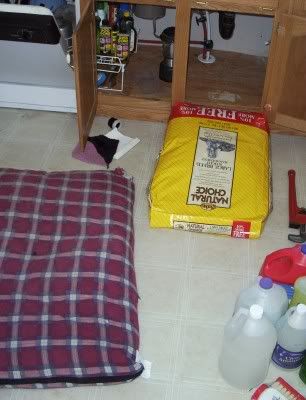 A 40 lb. bag of dog food is the perfect size to lie on when fixing the sink. It's exactly level with the cabinet, so you don't get that hard wood in your back. Also, if I put the dog bed next to me, Kishka laid on that instead of trying to get under the sink with me.
I've gotten some questions in my comments lately, so I need to respond. I don't want to be rude. :)
Actually, I owe
Maus
all the answers. She's been full of questions! I finally met her yesterday, but didn't really get a chance to talk to her before she had to leave. Hopefully next time I can speak with her.
First, Maus wanted to know what kind of dog toy I posted the other day. It is simply the
best dog toy ever
. Seriously. I don't buy my dogs stuffed toys because they tear them apart in under 5 minutes. Last year, I was at PetSmart and saw this new 'tough' dog toy. It had a money back guarantee, so I decided to give it a try.
Over a year later, the toy is still around and is still intact. The dogs play with it every day and the thing won't die. I've been looking all over town for another one and finally found a store that carries them (PetSmart on Powers). I bought one of the last ones, but the clerk said that they were selling very fast, so they had already ordered another batch.
Maus also asked about
Cotton Ease
: "Did you ever use cotton ease and did you like it?"
I have never used Cotton Ease, but I will. (See pics later in this post.)
Kirsti
sent along
this link
in response to my post from yesterday. I almost died laughing. Thank you, Kirsti!
Kirsti also begged for pictures of my newly aquired stash.
Here is the yarn I will probably use for myself: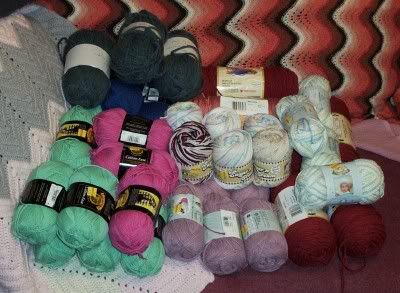 The bright pink will probably be a scarf and the mint green might become a large blanket. The rest of it hasn't told me what it wants to become.
The other yarn I bought was for making
Warm The World
projects: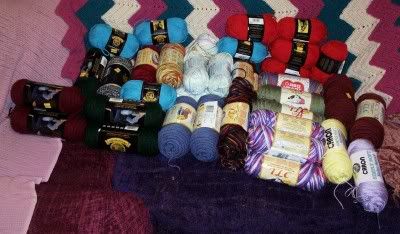 I haven't posted the Sassy Stripes scarf in awhile. It's coming along, slow and steady: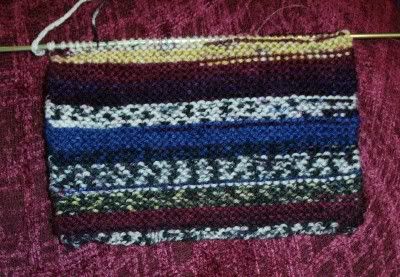 And the progress on J's blanket: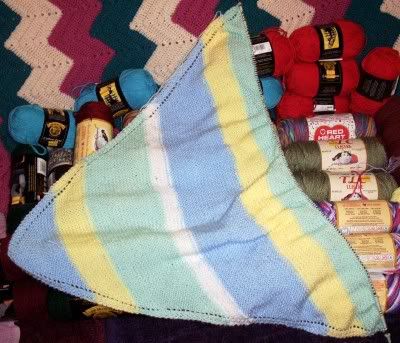 The only time I've knit all weekend was at the
Knitters With Altitude
meeting yesterday. It's just too damn hot. I took a couple of cold showers today and had a bowl of ice cubes out for the dogs.
Here's Kishka, looking hot (as in temperature):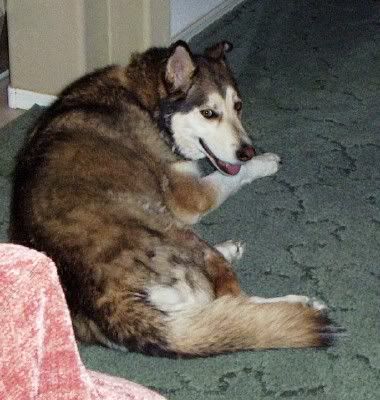 And Samantha, who staked out the bed under the ceiling fan: