Today, at a very special Knit Group......
The
Knitters With Altitude
had a knit group/doggy play date today.
AntiKathy
and Tegan (the Poodle love muffin) were our hostesses, along with her husband, Chris. We had a wonderful morning of knitting, eating, drinking (lemonade) and watching our dogs play. Of course, it was nasty hot, so
Anne
, AntiKathy and I ended up moving inside (to the AC!) and chatting the afternoon away. There was no knitting, just talking and mocking the awful designs in knitting magazines.
I'm afraid I only have a couple pictures to share. Hopefuly Anti will have more. (Hint, hint!)
Here is Max, Anne's adorable puppy.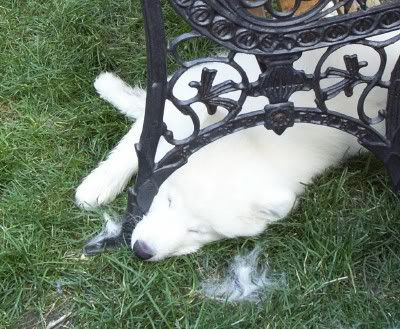 Max is the CALMEST puppy I have ever been around. He spent most of the morning snoozing on the bench next to his mom. Then he spent the afternoon on the couch, under the AC. (Anne raises smart dogs!)
Here's a picture of Kishka, enjoying the shade and grass: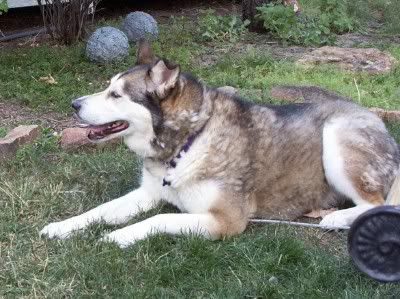 Anne also tipped me off about something this morning. Kishka is not a Husky mix. She's a Malamute mix. I've owned Kish for 2 and a half years and had no clue! Thank you, Anne, for correcting me. I guess this is what Kishka has been trying to tell me with all of her wooing. :)
I have a FO!
What:
Hot Pink Washcloth
Yarn:
About half a skein of Hot Pink
Sugar 'n Cream
Needles:
Size 7
Pattern:
Ripple Washcloth
Lesson Learned:
I followed the pattern exactly, but next time I'm going to knit more rows. Then it'll be square. :)
Destination:
It's already in my shower. :)
The Weather Geeks are saying that our heatwave is supposed to break tomorrow. Hopefully it does. Then maybe I can finish up a blanket!