Lead me to yarn. I must knit.
My knitting obsession has been stronger than usual lately. I must knit. All the time. Being without it for 12 hours during the day is making me
crazy
crazier than usual. I just now cast on a scarf to have by the computer. Then I can knit while I read things online. I've thought of knitting in bed, but am afraid I would never sleep and I know I would end up knitting dog hair into everything.
What would you think if I told you I was thinking about keeping knitting in the loo?
Not that I'm admitting to anything. Just asking.
I managed to leave work early enough to arrive home before Mr. Sun had said goodnight. So, I took the dogs outside and let them play for awhile. When we came inside, I had three very happy dogs. Don't they look like they're smiling?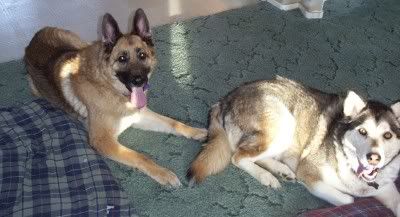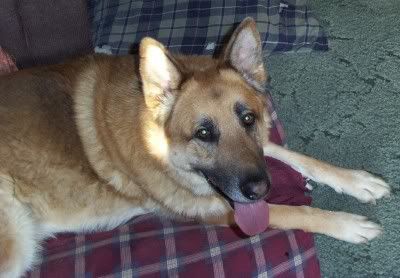 Max, as usual, had to stick his nose in a bunch of tall prairie grass and, as usual, had an itchy face all evening: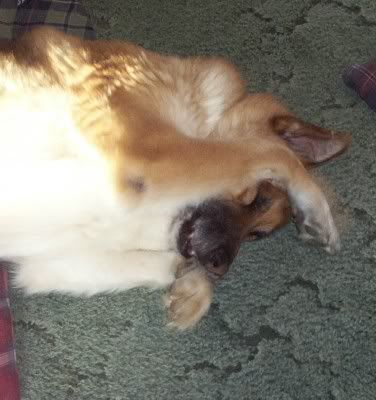 I've been working on the Two Tone Blanket lately. Here's what she looks like: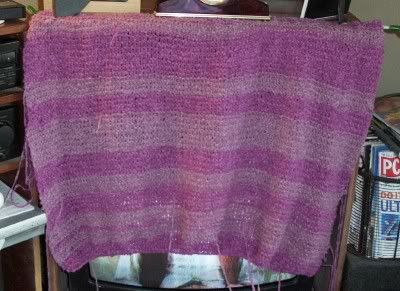 I'm hoping to finish her this weekend so I can cast on with some more
Warm The World
yarn.
Am I the only person who doesn't give a rip about the new Star Wars movie? I can't escape it. The 5am news started this morning with the Star Wars theme. Call me melodramatic, but it threw off my whole morning. I'm a major creature of habit and not waking up to the usual morning news music jarred me out of my slumber. I usually wake up slowly while listening to the news.
Or, maybe I'm just stuck in my ways and should learn to be more flexible.
A thought to knit by.