Is it the weekend yet?
I have decided that I can't start any
Warm The World
projects until I finish my
Good and Plenty
shawl. Current progress: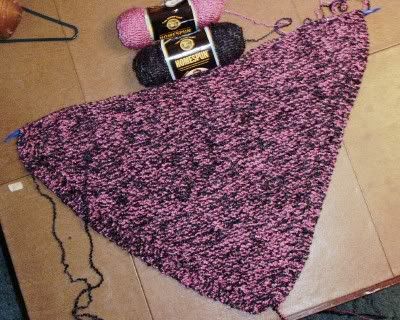 I think the end is in sight!
Pioggia
asked what I'm going to make with the
Warm The World
yarn. They need blankets (baby, child and for seniors) and scarves (for next winter's giveaway), so that's what I'll be knitting. And what do you know? Those are my two favorite things to knit!
If you're a dog lover like me, make sure you read this
hilarious post
by
Dooce
. I've 'been there, done that' with my dogs and couldn't stop laughing when I read about her experience.
CynCyn
stopped by today. She's also a transplanted Michigander and asked me that all important question: "Spartans or Wolverines?" Well, I fear my answer will result in me being prohibited from ever stepping foot in my home state again.
:: looking around::
:: whispering ::
I don't have a preference.
I'll wait for you to get up off the floor.
Yes, it's true. I don't care who wins a battle of those two teams. Shocking, I know.
For the non-Michiganders out there: The battle between MSU and U of M is legendary. When the two teams play each other it's been known to cause fights in families. It's not pretty.
But, I've never preferred one over the other. I attended a
different university
and had friends at both schools. I wonder if my admission will cause
CynCyn
to put me on a banned blog list. :)
The title of today's post ("Is it the weekend yet?") is indicitive of some fantastic news I received today. My best friend, J, will be here,
at my house,
on Saturday!!!!! She has a business conference in Denver next week and is flying in early to spend the weekend with me. Yay! I have not seen her since her wedding in June of 2003. She's the person I made the Baby Clouds baby blanket for. And, to add even more excitement, she's (hopefully) finding out the sex of her baby on Friday. Let's hope the little one cooperates and shows us his stuff/her lack of stuff! Then I can start on a gender specific blanket for her.