Friday the 13th
Finally, the end of a long, long week. I am in knitting withdrawal. I did make some progress this week, though.
First, the Crayola Blanket: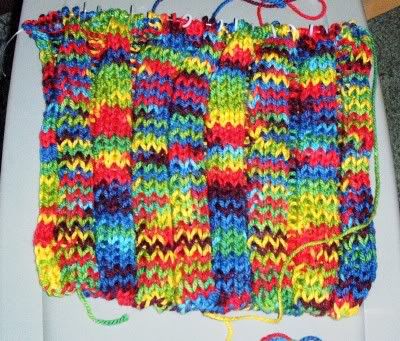 And the close up: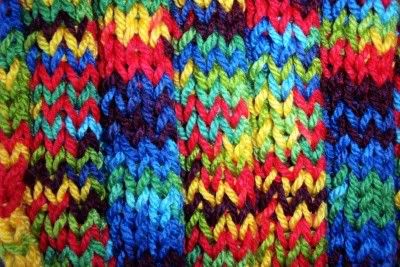 I really like how the Crayola Blanket is coming along. It's kind of a pain to knit, but the end result is well worth it.
The
Good and Plenty
shawl is finished!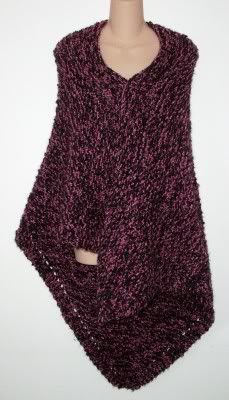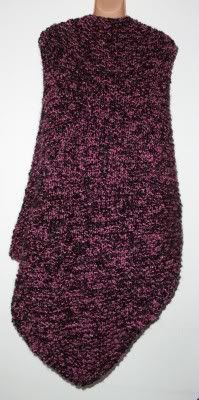 What:
Good and Plenty
shawl
Yarn:
Lion Brand Homespun
, 2.5 skeins each of Boston Rose and Edwardian
Needles:
17, circular
Lesson Learned:
This shawl knitted up quickly and without any drama.
This shawl is the first item that I've kept for myself. I'm enjoying it and am very happy I decided to make a shawl. I didn't think I was a shawl type of person, but it's perfect for knitting and watching TV.
This afternoon, I enhanced my stash: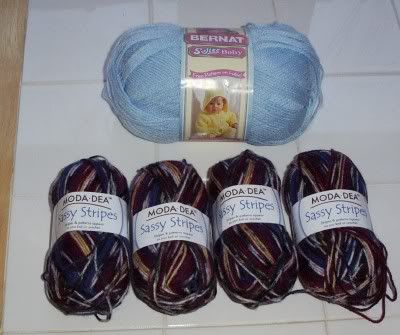 That blue yarn is to go with my other Bernat Baby yarn to make a blanket for J's baby. Here's the color scheme: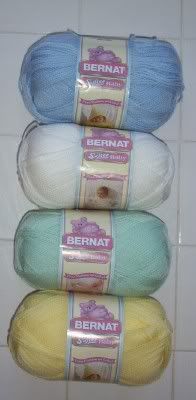 These are also her nursery colors, so as soon as I figure out a pattern, I'll get this on the needles. Anyone have any pattern ideas? I need something simple, since my brain seems to have gone on vacation without me.
The other yarn in my stash enhancement picture is
Sassy Stripes
. I found it at
Michaels
and it was on sale: 50% off ($3 a skein). Yay! I've been wanting to try self-striping yarn for a while now, but I'm too damn cheap to buy it. I'm thinking this yarn will be a scarf for
Warm The World
.
Tomorrow morning the
Knitters With Altitude
are meeting and I'm going to join them. This is only their second meeting and my first meeting. I admit, this is going to be nervewracking for me. I'm actually a shy person when I first meet someone. Once I know someone, I don't shut up, but around strangers, I'm just a little mouse. I am looking forward to going. I can't wait to be around other knitters!
If you're in the Springs area tomorrow and want to join us, we'll be at the Academy and Vickers
Pikes Perk
. The knitting begins at 9. I'm sure I won't roll in until at least 9:30, since I'm a chronically late person. (Yes, I know it's not a good trait and trust me, I'm working on it. :) )
Jenifer
tagged me, but it's with a meme that I was already tagged with. :( Scroll down for my answers, Jenifer. Feel free to tag me with something else!
In non-knitting news, look what I got from
Freecycle
!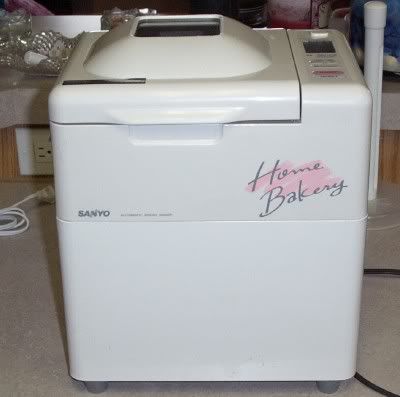 A breadmaker! I found my first breadmaker at a yard sale a couple years ago and fell in love with it. Then, last year, it committed suicide by hurling itself off the kitchen counter. I don't know why the breadmaker was suicidal, but it was an ugly, ugly death. I only paid $5 for it, but was crushed that I couldn't make bread anymore and my budget didn't allow for a new one. Finally, last week, I got smart and asked for one on Freecycle. Three days later, I brought this beauty home! So now I can start making my own bread again. It's doesn't take much to make me happy.