Long weekend
This is unbelievable. Three blizzards in three weeks. And another snow day for me today . Did you hear me cheering at 5am this morning? This is what I woke up to (picture taken at sunrise):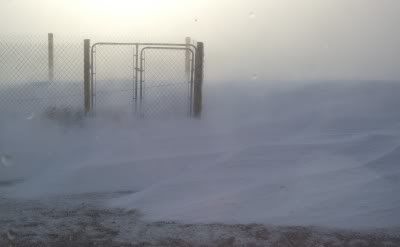 The blizzard has finally stopped, but I need to go shovel a path to the street so I can get out of here tomorrow morning. Ugh. I need to train these dogs to do some work around here!
Last weekend (two blizzards ago), I took this picture: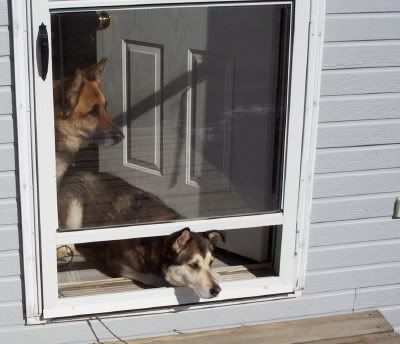 I was doing some work outside and just took Samantha with me. Max and Kish were not happy about that!

That same day, I snapped this picture of the jets flying overhead: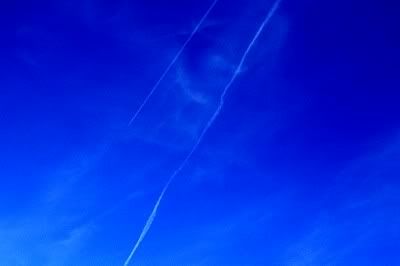 Also last weekend, I enhanced my stash: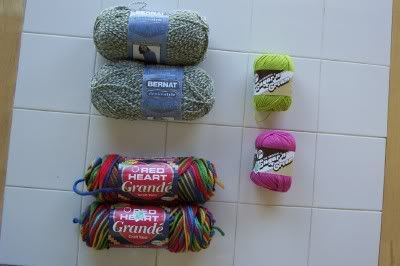 I was so excited about the stash enhancing that I started two new projects!
Here's the Jolly Green Blanket: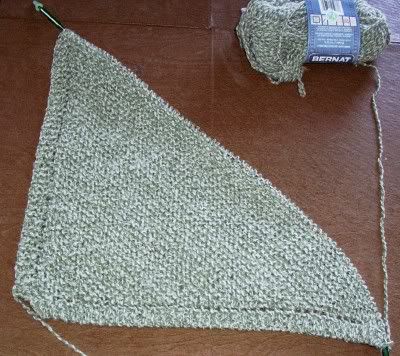 The blanket is an enlarged diagonal dishcloth.
And a close up: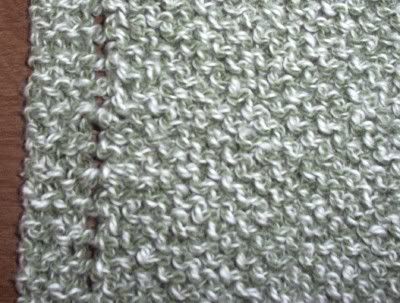 And here is the Crayola Blanket: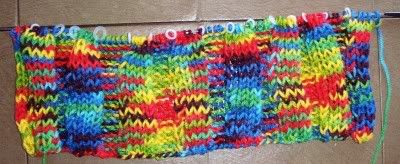 This blanket is just 5x5 ribbing. A close up: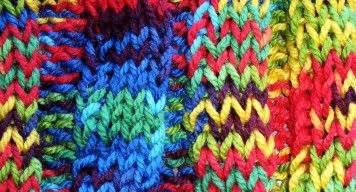 I also
found some great stitch markers: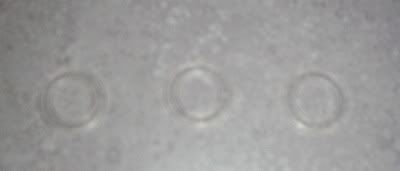 They are the perfect size for the large needles that I prefer. I found them in a most unexpected place: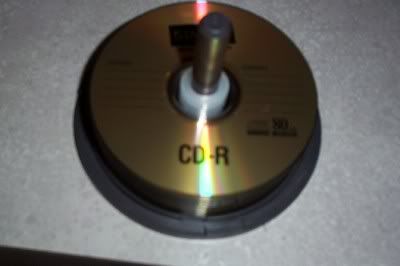 I plan on knitting on both of these projects this afternoon. I've been a knitting maniac lately. I love it!
On one of the knitting groups I belong to, a very nice woman got ripped off by Smileys Yarns. That led to this:

Kitt also blogged about this and since she described what happened so well, I'm going to just quote from her blog:
Another dishonest online store has been flushed out into the open; Smileys Yarns. Diana, a wonderful woman ordered some yarn from Smileys knowing their return policy; No Returns, all sales final. Diana had no reason to not trust Smileys.
What they sent her was misrepresented on their site and because of this they should exchange the yarn as it was their fault, not Diana's.
Side note; in the three days since these emails were traded, Smileys has changed their website to correctly reflect the yarn Diana purchased. In other words, they know they screwed up.
Read for yourself, the rude email she received from them. Diana's emails are italicized.
Here's my note to Smiley's:
I received an order today, AA43673. The Berella Polar yarn is the wrong color. I ordered Wine/Spruce/Brown. The yarn enclosed is Wine/Mist/Ombre. I had started a swatch and noticed it is not what I had in mind then I checked the yarn label. How shall I
return it for an exchange? Thank you,
Smileys Reply:
The color you received is the same color that you ordered. Berella calls it " Wine Mist Ombre". As stated on our website under "return policy", all sales are final. Trudy
I ask everyone who shops online for yarn to please boycott Smileys. This is unacceptable practice and it could happen to you. Diana has had to resort to listing the yarn on EBay with the hopes of recouping some of her loss. We do NOT need dishonesty in our craft, we have enough of it in all other facets of our life. Let's all work to keep online stores honest! Especially those in our craft!
Now, just to add my own commentary....
Regardless of the 'no returns' policy. Smileys customer service sucks. I work in customer service and when my company makes a mistake, it's my job to kiss our customer's ass. How hard would it have been for Trudy to toss an "I'm sorry to hear of your dissatisfaction" in there?
Smileys prices are dirt cheap.
And now we know why.