Long time, no blog.
And yes, I have an excuse. I've been
a bit
a lot
testy
bitchy from the lack of caffeine. The worst is behind me, though. The withdrawal headaches are just about gone and my mood has stablized. (Last week, I was ready to bitch slap anyone who ventured within 20 feet of me.)
I have cut my caffeine consumption by about 2/3. I'm not cutting it out completely (are you nuts?), but am drinking just a fraction of what I was two weeks ago. Thank you for all of your comments and emails in support and admiration of this. It is very much appreciated.
All of my nervous energy was tranferred to knitting!
Presenting...............................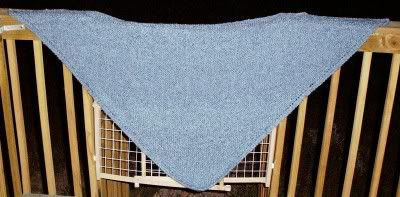 What:
My mom's shawl
Yarn:
3 skeins of
Lion Brand Homespun
in the color Williamsburg
Needles:
11
Pattern:
The first half of
the diagonal baby blanket
Lesson Learned:
None
Destination:
My mom. :)
This was a pretty fast knit. And it was mindless so it was perfect for DVD watching! It's already packaged up and will be in the mail to Michigan tomorrow.
My other projects are progressing, too. Here's my second sock: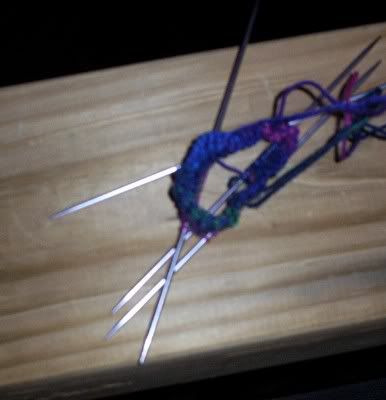 I apologize for the blurry photo. I still have a touch of the shakes.
Here's the Touch of Red Blanket: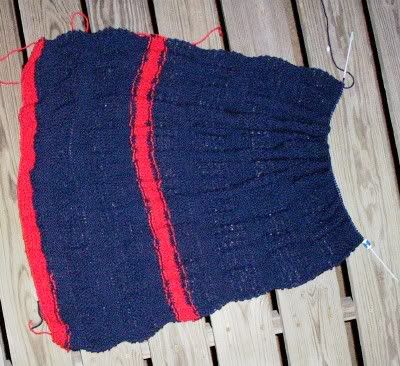 And introducing:
The blanket that is not yet named. I can't think of a name for this one. Anyone have any ideas? It's shades of pinks, purples and white. It's very pretty, but I'm stumped about a name.
Finally, I picked up a little something at a yard sale last Saturday: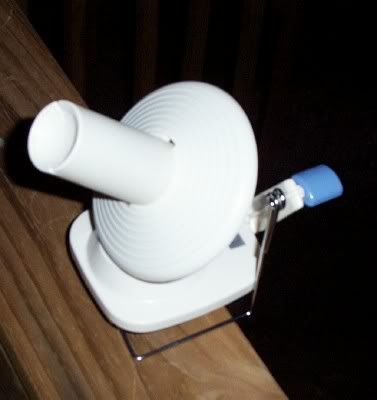 Cost: $3.

SCORE!!!!!!!!!!!!

This is my best yard sale find ever. I wanted to jump up and down when I saw it, but I stayed cool. Until I got in my car. :)

"Lost" starts tomorrow. I just started watching it this summer and am hopelessly hooked. I can't remember the last time I was so excited about a TV show.