Mind numbing garter stitch.
J's blanket is coming along, but the garter stitch is going to kill me.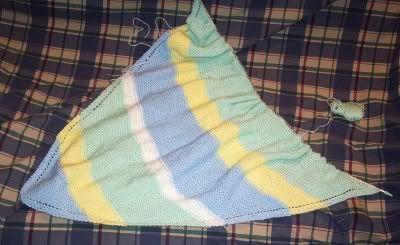 Only 10 more rows until I start decreasing, so there is light at the end of the tunnel.
Anne
and
Christy
stayed late at
Knitters With Altitude
this morning to keep me company while I finished the green stripe. Thank you! :)
I received this from
AntiKathy
this morning: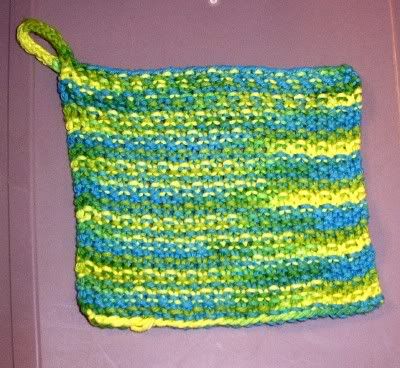 I can't really call it a gift because she tossed it on the table and said, "Does anyone want this? I really don't like it." I love the colors and will give it a good home.
There was yarn molesting going on this morning, too. I received this today: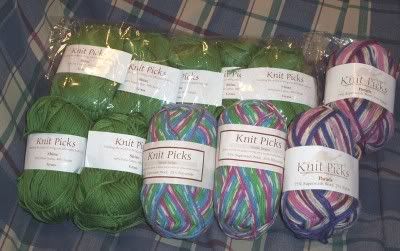 And a close up: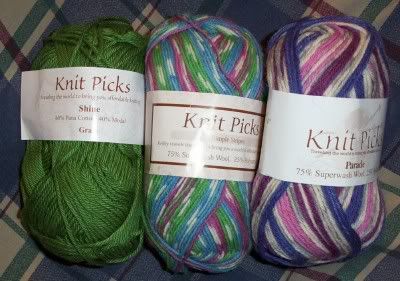 This is my first
Knit Picks
order and won't be my last!
A few days ago I came home to this: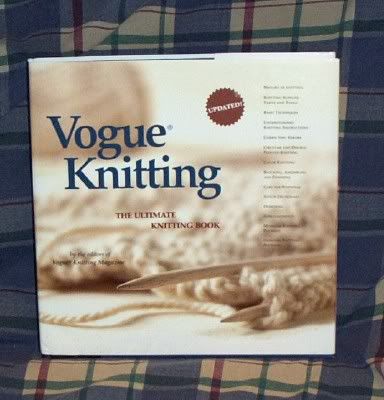 I am very happy I decided to get this. The pictures are wonderful. I haven't had time to do more than flip through it, but I can tell that this will be an indispensable reference book.
Melanie
asked how many projects are on my needles right now. Actually, there's only four. J's blanket, the Orange Sherbert blanket, A Touch of Red Blanket and the Sassy Stripes Scarf. Once I finish J's blanket, I'm going to finish the other two blankets. The scarf is heading to the frog pond because I hate it (not the look of it, but the size 3 needles). Then I'll be free to start all the projects spinning around in my head.
There will be a lots of knitting tonight. I have a date with
Bruce
and that will be the perfect distraction from all the damn garter stitch.