The end of a wonderful weekend
The weather here this weekend was utter crap and I loved it! It enabled me to watch
The Civil War
, knit and just generally be lazy without feeling guilty.
I made it up to 1864 in
The Civil War
:
And here is the progress on J's blanket: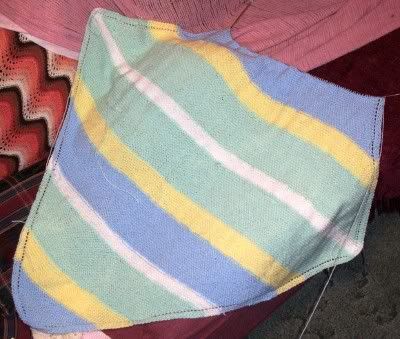 I've very happy with how it's turning out. I expect to finish it this week.
Purse was a hit at
Knitters With Altitude
yesterday. I've also named her Molly. I think this is the beginning of a beautiful friendship. :)
Also this weekend I've been listening to the just released
September 11th tapes
. I really debated with myself about whether I wanted to listen to them. Then I realized that for the past four years, I've had the media tell me what happened that day. I want to hear it for myself. The tapes aren't easy to listen to and will probably take me several weeks to listen to all of them, but I will do it.