Summer night
The unbearable heat of the day has given way to a gorgeous evening. It's pleasant (71 degrees) outside, with a light wind blowing, the moon shining brightly and a spectacular lightning show to the north. Max and I just sat outside on the deck and enjoyed the night.
Hmmmm....I just admited in public that I was sitting in the moonlight with my dog. Some would call that sad. I call it a damn fine way to spend the evening. :)
I've been a knitting maniac lately. Yesterday at the
Knitters With Altitude
meeting, I worked on the Crayola Blanket:
Mucho thanks to Anti-Kathy for showing me how to fix a mistake. I would link to her blog, but she doesn't have one! She definitely needs one. Anti-Kathy is funny as hell. She's currently knitting a chicken hat. Wouldn't you love to see pics of that?
I've also been working on J's baby blanket:
September is drawing closer, so I need to knit faster on this!
And now, some new projects are making their blog debuts:
The A Touch Of Red Ruffle Blanket:
I'm doing the pattern from the Purple Ruffle Blanket and using navy blue, with small, random stripes of bright red.
The Summer Somethin' Project:
If I continue to love this project, it will be a shawl for me. If not, it will become a blanket for
Warm The World
. This is
Lion Brand Microspun yarn
in the colors lime and coral. The colors didn't show up very well in the pic.
The Blue 'n Purple Scarf:
A totally mindless project. I knit a row or two on this when I'm waiting for the dogs to finish up outside, before I leave for work, etc. I really like how the two colors are mixing.
I also cast on
this scarf pattern
four
times. But, apparantly I'm a moron (or the heat is melting the brain cells) because I messed it up
every single time
. It's been frogged and the yarn is now put away, so I did not hurl it out the window.
I should probably warn my blog readers that they're in for about three months of me bitching about the heat. I'm a native of
The Great White North
. I can't take anything above 80 or 85 degrees. Granted, I don't miss the harsh winters that I left, but I do not like that heat of a Colorado summer. It's the one thing I don't like about Colorado.
Today I set up my 'beat the heat' system:
Fan one is directed at me:
Fan two is to circulate the air: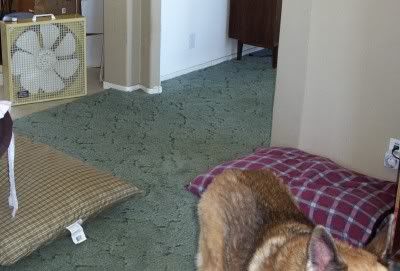 Also, note that fan two is pointing directly at the dog beds. I am a well trained dog owner. Kishka enjoyed the fan today:
The other night it was very windy and the clouds were looking pretty cool:
And Sam was looking very photogenic:
I also took a picture of myself, waving at all of you:
:-)