Finito!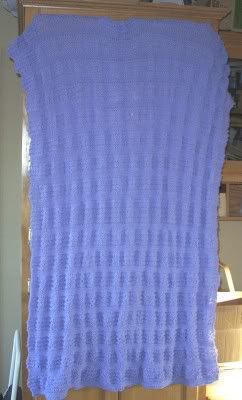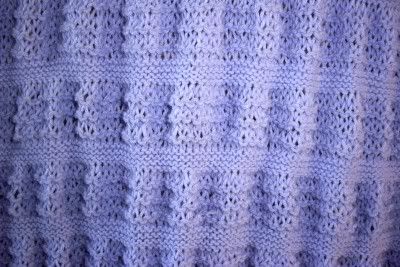 What:
Purple Ruffle Blanket
Yarn:
One ball of
Lion Brand Pound of Love
in the color lavender
Needles:
# 5 and #15
Lesson Learned:
Straight needles are the debil. I hated this project until I switched it to
Denise Needles
. Now, I'm going to make another ruffle blanket!
This blanket is destined for
Warm The World
, unless my friend J's ultrasound is wrong and she has a girl. She saw this blanket when she was here and loved it. I may make one for her in a different color.
Kirsti
came up with the coolest term: Project Slut. She blogs about being a project slut today and it cracked me up! I'm definitely a Project Slut, too. I
only
have four things on the needles right now. :)
I've been working exclusively on the Purple Ruffle Blanket, so don't have any progress on my other blankets. However, I'm now keeping the Sassy Stripes Scarf next to my bed and I knit at least one row each night before I go off to dreamland. Here's the scarf, lounging in the sunlight: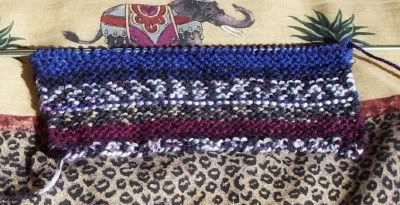 I really like how this is turning out, but I
hate
the size 3 needles.
I was watching DVD's the other night and all of a sudden found myself modifying the Instant Gratification Scarf: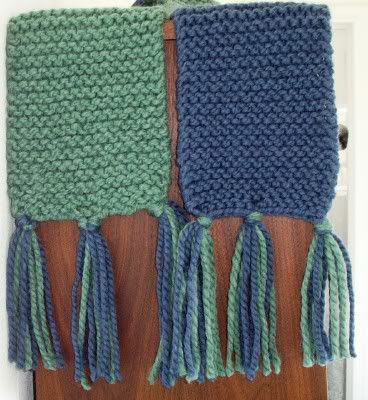 Much better, no?
To those of you keeping count, the projects currently on my needles are: The Sassy Stripes Scarf, the Blurple Building Blocks Blanket, J's baby blanket and the Crayola Blanket. None of these are calling to me, though. I may have to cast on something new!
In non-knitting news, here's a better picture of the hole in my kitchen window: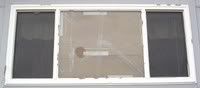 After I took the picture, I taped the outside of the window, covered it with cardboard and then covered the whole thing with duct tape. We've had a storm since I patched it and it's holding up perfectly!
Pioggia
asked if my insurance will cover the window. My deductible is $1000, so no, it won't. I haven't even called to see how much a new one with cost. As long as my patch job holds, I'll postpone it as long as I can. My budget doesn't exactly have room for a new window right now.
Another casualty of the storm was the two side mirrors on my car. Thank goodness it wasn't one of the car windows!
Here's a pictures of the Shepherds, lounging after a fun game of fetch: