Ahhhh.....the weekend......
It's been a good day. Spring has sprung in Colorado and I took a nap outside in the sun today. I also took a drive with Sam and Kishka (Max gets car sick). Why can't every day be Saturday?
I finished the Jolly Green Blanket tonight!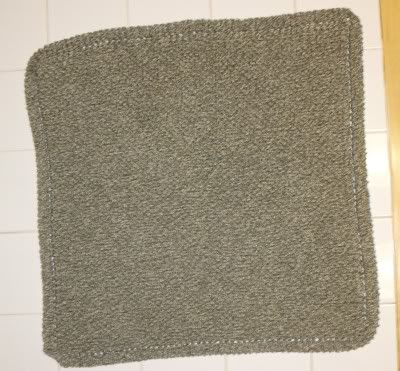 What:
Jolly Green Blanket
Yarn:
2 skeins of
Bernat Denim Style in the color Faded Khaki
Needles:
Size 10.5 circular
Lesson Learned:
Nothing went wrong with this blanket. I love this yarn!!!
The picture was taken prior to blocking. I was just so excited to finish it that I had to take a picture!
I only have two projects in the needles now. (Two Tone Pink Blanket and the Crayola Blanket) I'm going to cast on for something else tonight. I'm not sure what, but am leaning towards a shawl for moi.
I was reading the
newspaper
this morning and found
this article
about this
local charity
. I've been emailing the founder about getting involved and am very excited to have found a local charity. I'm a blanket knitting machine and I've just been collecting them until I found a charity I was comfortable with. I think I've found it!