Frolic like you've got no sense
Wow. I had some awesome feedback on my Crayola Blanket. Thank you! To answer
Kelly's
questions: I'm using
Red Heart Grande yarn in the color Wow
. Yes, I did invent the pattern myself. It's 5x5 ribbing. I've only knitted a couple more rows on this blanket.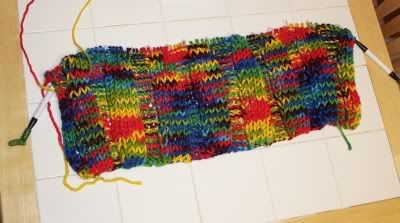 Most of my knitting lately has been on the Jolly Green Blanket: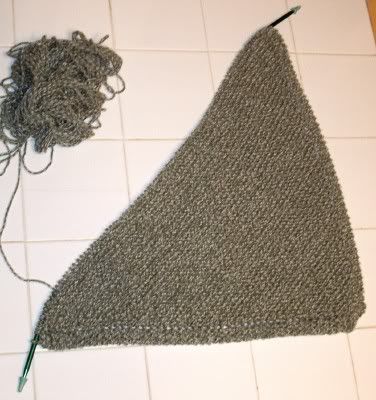 I really like this pattern. Simple, but very nice looking. I think I'm going to make a
Homespun
shawl using this same pattern. I bought some Homespun in the colors Boston Rose and Edwardian, with the intention of making myself a blanket. The recent blizzard (accompanied by two day power outage) persuaded me that I need a shawl instead. The shawl will commence as soon as I figure out what size needles to use. (Super big or more normal sized?)
Speaking of
Homespun
, have you seen the new colors they're coming out with? Candy Apple Red, Olive and Fuschia....oh my! Spring Green, Cotton Candy and Lavender.....oh yay! I really love Homespun and these new colors are wonderful.
Here's a blast from the past: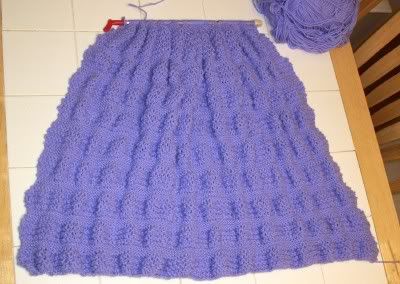 The Purple Blanket!! After the disaster several weeks ago, I was no longer inspired to knit this blanket. My inspiration has returned. My love for this blanket has been reignited and I want to knit this blanket all the time now.
I was watching
American Idol
last night and the contestants sang songs from the year they were born. I felt really old. I remember when most of them came out! "Everytime You Go Away" reminded me of my Paul Young crush back when I was 12. :: swoon :: (Where is Paul Young these days, anyway?)
Remembering these songs reminded me of a question I've seen asked on some non-knitting blogs: How would your 17 year old self react to your current life?
For me, it's a two-fold answer. The initial response would be "Holy shit! What happened? This isn't how life is supposed to be!" Upon further reflection, though, I'm sure my 17 year old self would be impressed at what I've done and how I'm living my life. It's not what I expected, but it's a wonderful life that I'm living. :)
To those of you with blogs (and inclined to participate), I will ask you: How would
your
17 year old self react to your current life? If you answer, drop me a comment so I can see your response.