Back in the saddle again
I'm finally back in the land of cyberspace! I can't believe how much I missed the Internet. Kind of sad, really.
Since I was Internet-less over the weekend, I had a
Little House on the Prairie
marathon. I watched two DVD's (six hours) worth of Little House. Yowzers! That's a lot! I have to say, though, I still love the show.
Thank you to
Pioggia
,
Amanda
, and
Melanie
. They all wished me luck and told me to hurry back. Thanks, girls! :)
I had many visitors while I was away!
Leah
sounds like she was just as excited to learn how to purl as I was. :)
Jane
appears to have stolen my cat. Seriously, her Tiger looks just like my Parker!
Speaking of cats,
blufelicia
warned about the Code Enforcement group for cats. I think I'm in trouble.......
And,
Rabbitch
stopped by to compliment the kitties and to say hi. Check out Rabbitch's blog if you need a laugh. She's a riot!
On to knitting news.....
I started a new project!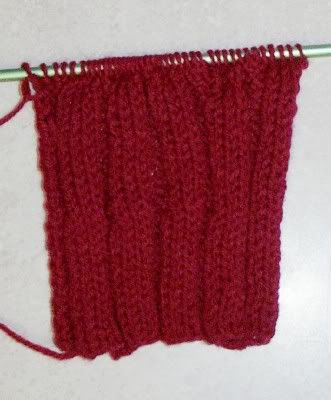 I call this one....Zee Red Scarf. (For some reason, this scarf makes me talk in a bad French accent.) It is the first project where I have used something besides garter stitch. Very intimidating, but I think it's turning out! Since I started this scarf, my purling has gotten faster, so that's a good thing. However, my purl stitches are looser than my knit stitches. Anyone know how to fix that?
While I was reading blogs tonight, I came across a site about
unraveling sweaters.
I never would have thought of doing this! What a fantastic idea! I still have tons of sweaters from my life in the
The Great White North
that I haven't worn in years. I think I'll unravel some of them!
I bought two books over the weekend:
Knitting For Dummies
and
Stitch 'N Bitch
. When I checked Stitch 'N Bitch out of the library for the third time, I figured it was time to buy it. While browsing at the bookstore, I decided that Knitting For Dummies was worthy of my time, too. Both books have already been very helpful to me.
I have three dogs. I also have six dog beds. (You do the math.) Yet, the girls both have the same bed picked out as their favorite. It sits next to my computer desk and one of them is always there when I'm in the room. Here are two adorable shots I took this weekend: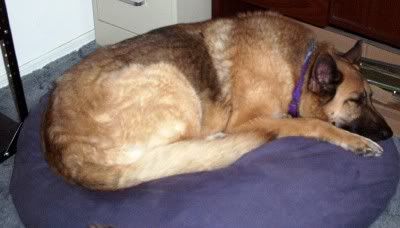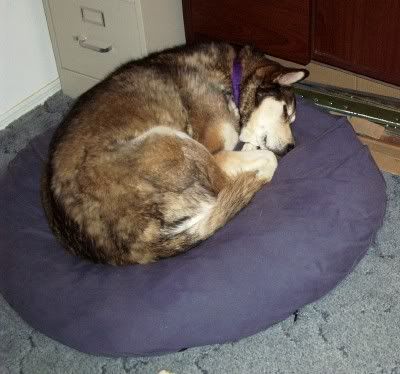 It's good to be back online, but now I'm off to knit!!